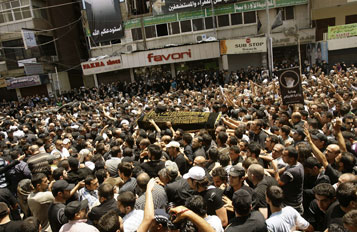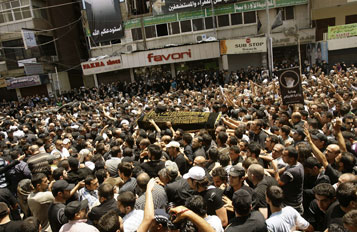 On Tuesday, Grand Ayatollah Sayyed Mohamad Hussein Fadlullah was laid to rest in the court of the Hassanein Imam Hassan and Imam Hussein (pbut) Mosque in Haret Horeik – Beirut's southern suburb.
Hundreds of thousands of Sayyed Fadlullah's lovers and supporters took part in his funeral, telling his eminence for the last time their "own secrets" and vowing to stay committed to his path.
They told him that even if he has passed away, he will remain the ideal and the model for them, that even if he has died, his eminence will remain a great man in the eyes of all those who had the chance to know him, and his views will continue to circulate from one generation to another…
On Tuesday, Sayyed Fadlullah's lovers, from Lebanon and outside it, expressed their loyalty to a great man who will never be forgotten, a great man who has left behind him a rich heritage full of eternal values and principles, a great man who has launched a school of beliefs with thousands of students who pledged to remain committed to his path…
All of them took part in his funeral accompanied with religious chants and the speeches of the late scholar echoing through loud speakers. Many of the black-clad mourners carried his portrait as they marched.
"This is a sad day for the Muslim and Arab nation. I have been one of his followers since I was a child and I don't know if anyone will be able to fill the vacuum left behind by Sayyed Fadlallah," Saeed Ali, a 32-year-old Kuwaiti mechanical engineer who flew in Tuesday morning to attend the funeral, said.
Zahra Omeish, 65, braved the heat and crowd to pay tribute to the spiritual leader. "He was our father, our brother, our friend," she wept, leaning on a walking cane as she inched her way along with the crowd behind Fadlallah's casket, heading to the mosque, where he will be buried. "I would see him every Friday at prayer and he would sometimes come and sit with us afterwards," she told Agence France Presse. "The father of all orphans, the father of the poor, is gone," she said.