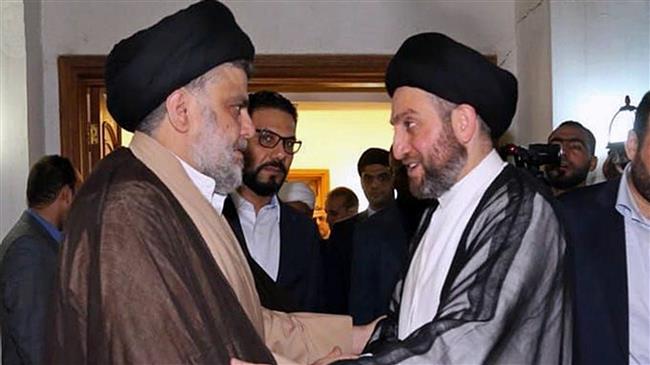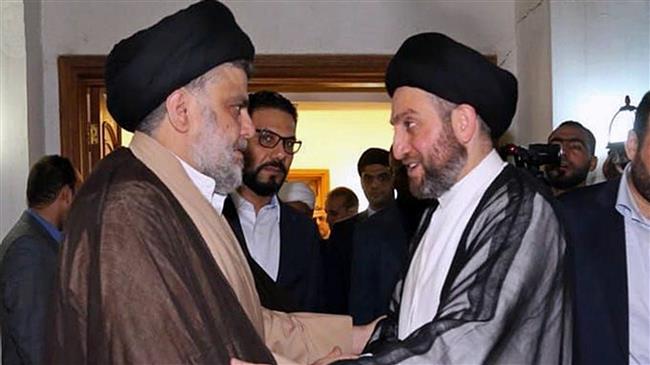 Leading Iraqi cleric Muqtada al-Sadr's announcement of a coalition has left remaining parties with the choice of closing ranks which could reinstate Prime Minister Haider al-Abadi for another term. 
The Fatah (Conquest) alliance, led by secretary general of Badr Organization Hadi al-Ameri, Abadi's Nasr (Victory) coalition and Vice President Nouri al-Maliki's Dawlat al-Qanoon (State of Law Coalition) are now best placed to form a coalition.
The blocs finished second, third and fourth in the May 12 elections by securing 47 and 42 and 26 parliamentary seats, respectively.
If the three groups form an alliance, they would take 115 seats, enough to form a government.
Ameri's Badr Organization is a coalition of volunteer forces, most prominently Hashd al-Sha'abi, which ousted Takfiri terrorists from Iraq and returned security to the country.
Sadr forms alliance with two other parties
Sadr, whose list won the largest number of seats in the elections, has formed an alliance with two other blocs in an attempt to have a majority at the parliament.
A coalition agreement was reached on Friday between Sadr's Sairoon (Marching Towards Reform) bloc, which won 54 seats in the Iraqi parliament, as well as Vice President Ayad Allawi's Sunni-majority al-Wataniya (National) alliance and Shia cleric Ammar al-Hakim's Hikma (Wisdom) alliance.
The parties of Allawi and Hakim finished sixth and seventh in the elections with 21 and 19 parliamentary seats, respectively.
In a statement, the newly-formed tripartite coalition expressed resolve to preserve Iraq's national unity, implement economic reforms, encourage private sector activity and promote investment.
The coalition also underlined the need for avoiding the "politicization of the government, administrative and military sectors," calling for an independent judiciary, "balanced" foreign relations and the swift repatriation of the displaced.
The alliance gives Sadr around 100 seats, but the number is not enough to generate a majority in the 329-member parliament.
The development came amid mounting allegations of fraud surrounding last month's elections, which led the Iraqi parliament to vote for a manual recount, cancel expatriates' votes and sack the electoral commission.
The Iraqi parliament votes in favor of a manual recount of votes in the country's May 12 parliamentary elections.
Iraqi lawmaker Kazem al-Shammari told the UK-based Saudi-owned Asharq al-Awsat newspaper that serious talks were underway with other parliamentary blocs to join the tripartite coalition.
"We believe that agreements with these blocs could help create the biggest bloc that would form the next government while the remaining alliances would become the opposition," he said.
Sadr urges disarmament of all groups
Separately on Friday, Sadr called on all armed groups to lay down arms and declared that Baghdad's Sadr City district would be a weapons-free area later this month.
"Everyone must obey the orders and not stand in the way of this initiative. Everyone should hand over their weapons without any discussion because the blood of Iraqis is more valuable to us than anything else," he told his supporters in a statement.
The Iraqi Interior Ministry also released a statement thanking Sadr for his disarmament initiative.