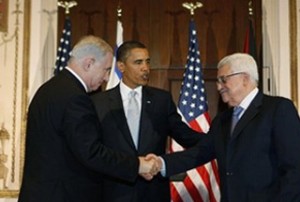 Human rights groups have accused the Palestinian Authority of "helping Israel bury its crimes" for bumping UN draft proposal over alleged Israeli war crimes in the Gaza Strip.
Hundreds of Palestinians demonstrated in various parts of the Gaza Strip after the Palestinian Authority defered a UN Human Rights Council vote on the Goldstone report on Israeli war crimes during the 2008 war against Gazans, The Jerusalem post reported Saturday.
Several Palestinian human rights organization issued a statement, accusing the PA leaders of succumbing to US pressure.
"This deferral denies the Palestinian peoples' right to an effective judicial remedy and the equal protection of the law. It represents the triumph of politics over human rights. It is an insult to all victims and a rejection of their rights," the statement said.
Members of acting Palestinian Authority Chief Mahmoud Abbas's Fatah faction also condemned the move and called for an emergency meeting of the Fatah Central Committee to discuss the issue.
On Friday, the UN was due to vote on a resolution that would have condemned Israel's failure to cooperate with the UN war crimes investigation, but it was suspended after Abbas withdrew his support for the resolution.
Palestinian officials dropped their support for a scheduled vote after intense lobbying from the US administration which argues that any action on the report will "backfire" by driving Israel away from possible peace talks.
The report issued by United Nations human rights investigator Richard Goldstone has strongly criticized Israel over its 22-day offensive on the Gaza Strip and called for the prosecution of Israeli officials.