North America
'Absolute nightmare': Video shows Tennessee officers mocking inmate during his restraint before death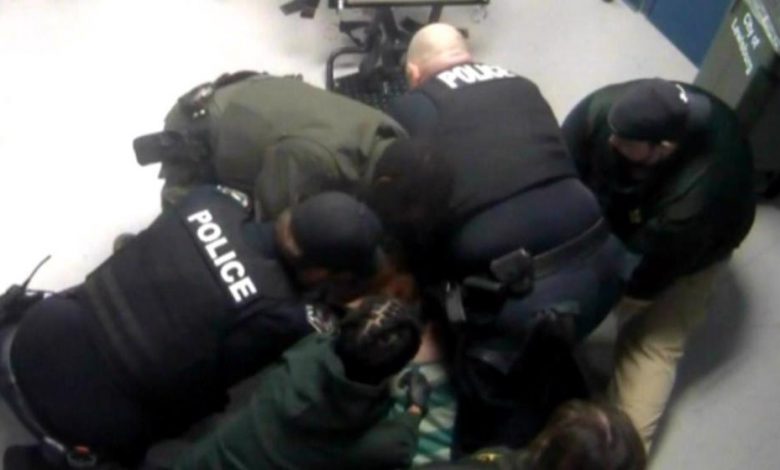 Justice advocates have strongly condemned officers at a Tennessee jail after video footage was released showing them suffocating a man as he cried out that he could not breathe.
The footage released by NewsChannel 5 in Nashville shows William Jennette being pinned to the ground by officers from multiple law enforcement agencies at Marshall County Jail and being mocked moments before he asphyxiates to death on May 6.
When the inmate repeatedly pleaded with the officers that he could not breathe, a female officer can be heard responding, "You shouldn't be able to breathe, you stupid bastard."
The video also shows Jennette, a 48-year-old white father of five, yelling, "Help, they're going to kill me!" as the officers tried to forcefully restrain him.
At one point in the video, an officer sounds a note of alarm to his colleagues, telling them, "Easy, easy—remember asphyxiation, guys."
An autopsy carried out by the Marshall County Medical Examiner's Office has ruled Jennette's death a homicide, listing the cause as "acute combined drug intoxication" with asphyxia as a "contributory cause of death."
Despite that ruling, a grand jury later decided not to indict any of the officers involved in his death.
Sherrilyn Ifill of the NAACP Legal Defense and Education Fund tweeted that the bodycam video was "an absolute nightmare," while condemning the justice system for failing to deliver convictions in the case.
"A nightmare. An absolute nightmare. 7 officers. Grand jury refuses to indict any. That's how it usually happens," she wrote.
Chris Vanderveen, director of reporting at KUSA in Denver, tweeted that Jennette's death in custody was the 121st such death he has recorded. "Another day. Another prone restraint death. My goodness. This will be the 121st death on my list."
One of Jennette's daughters, Dominque Jennette, has sued the county, the city of Lewisburg, and several of the officers involved in her father's death.
"That just breaks my heart because he was someone worth knowing," his daughter told WTVF. "That's just something that really sticks with me, how scared he must have been and how alone he must have felt."
The lawsuit alleges that Jannette's death was caused by "savage beating" and "suffocation," which constitute a "deprivation of civil rights" under the Fourteenth Amendment.
The footage has conjured up the tragic death of George Floyd last May in police custody. Floyd died during an arrest confrontation in Minneapolis, in which an officer kneeled on his neck for more than nine minutes as he shouted out, "I cannot breathe."
That phrase later became a shouting slogan for the Black Lives Matter movement, which held nationwide rallies to call for justice for Floyd.