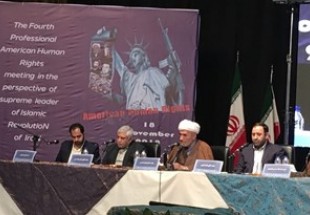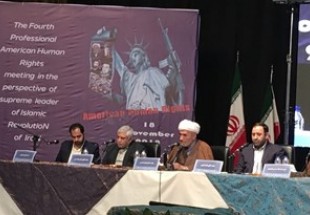 Top Iranian Sunni scholar attended the fourth meeting on American human rights in the Iranian Province of Kurdistan and counted notorious Abu Ghraib Prison as an instance of American style human rights.
Mamusta Amin Rasti, top Iranian prayer leader of the Sunni community, called the United States of America as the most inhumane government in the world and the major instance of breaching the human rights across the globe, reported Taqrib News Agency (TNA).
Interim prayer leader of Sanandaj denounced the US for the crimes it committed across the globe and said, " American-style human rights should be sought in Abu Ghraib Prison and in Yemen and Syria war."
Iranian cleric attending The Fourth Professional American Human Rights Meeting in the Perspective of the Supreme Leader of Islamic Revolution of Iran" saying," Over 14 centuries ago human rights declaration was revealed long before the arrogant powers pass their declaration of so-called human rights following the Second World War while the present claimants of human rights are the very violators of the same declaration."
Mamusta Rasti added," This is while their advisors have reminded them of the fact that Islam is the origin of human rights and honor of people stands in the highest rank in Islamic view."
Iranian Sunni scholar called Islam as a global religion whose flag will be hoisted in the world in future.
Mamusta Rasti stressed introduction of true Islam as a mission for all Muslims.
He referred to notorious Abu Ghraib Prison and the critical situation in Yemen and Syria as instances of American human rights and said," Crimes by criminal American government should be unveiled based on these instances."