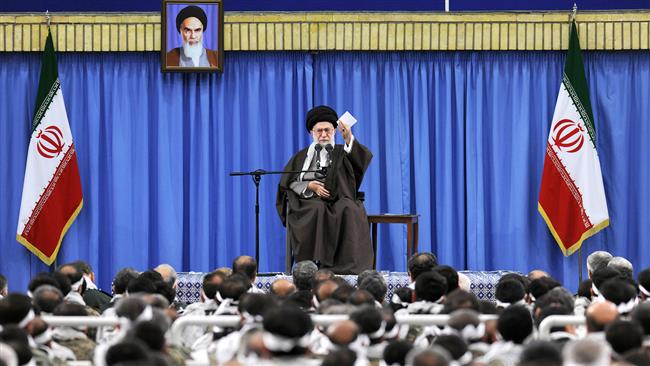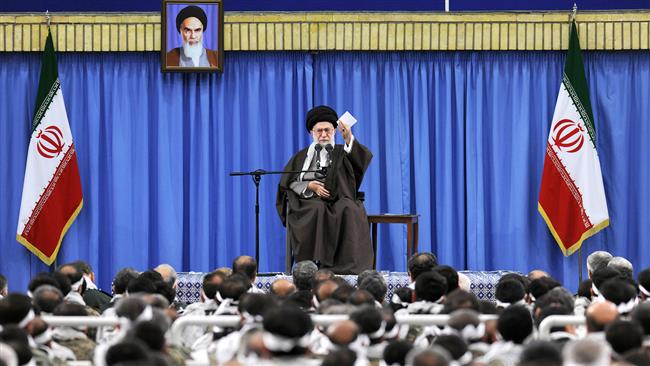 Leader of the Islamic Revolution Ayatollah Seyyed Ali Khamenei says those people who accuse Basij force of being radical are in fact completing the enemy's infiltration project.
Ayatollah Khamenei made remarks in a meeting with thousands of Basij commanders from across the country in Tehran on Wednesday.
During the meeting, the Leader once again explained about enemy's efforts to infiltrate the country under various excuses, saying, "The [issue] of [enemy's] infiltration is a very important issue."
Ayatollah Khamenei said the fact that some people intend to take advantage of the issue of "influence" in favor of their own political faction, does not reduce the importance of this issue because the enemy is devising plots against the country.
"Today, infiltrating into [political] currents is more dangerous than influencing individuals," the Leader noted, adding that infiltrating into a political current means to build a network within the nation by spending money and banking on sexual attractions in order to change beliefs, ideals, views and lifestyle of the nation.
Praising Iran's Basij force as an "unending treasure," the Leader warned that those people who accuse Basij of being extremist and radical "are completing the enemy's infiltration project."
"Basij is among strong embankments [of the country], which should not be undermined," Ayatollah Khamenei emphasized.
The Leader then turned to the Intifada (uprising) of the Palestinian people in the occupied territories, saying, "The Intifada of Palestinian people in the West Bank has started and people are fighting [against the Zionist regime]."
"About 60 years have passed since the occupation of Palestine and these people have changed for a number of generations, but the cause of Palestine still exists," Ayatollah Khamenei said, noting that the enemy aims to eliminate this cause.
"We will defend the movement of the Palestinian people in any way that we can," the Leader emphasized.