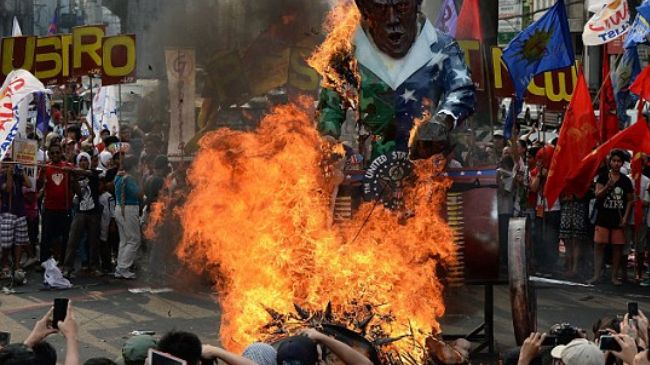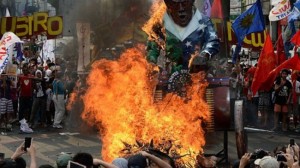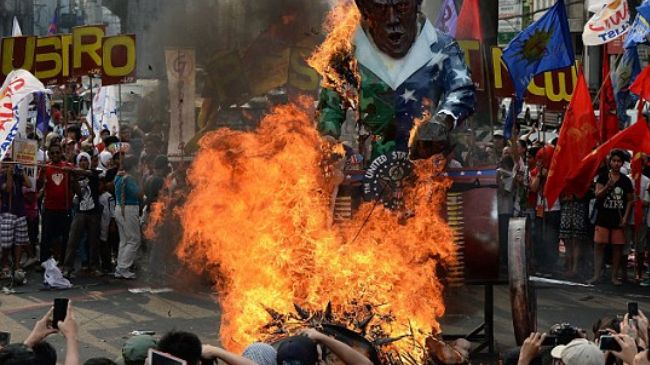 Hundreds of Filipino protesters have rallied against President Barack Obama's visit and the military pact signed with Washington.
On Tuesday, Riot police used water cannon to disperse a protest gathering in the capital Manila
The demonstrators were trying to make their way to the US Embassy, but were stopped by security forces.
The protesters ripped and burned the US flag and an effigy of President Obama.
The protest came as Obama arrived Monday in Manaila Philippines on the last leg of his four nation Asian tour.
US President also met with American and Filipino troops on the second day of his visit to the Philippines. About 500 American soldiers have been based in the southern Philippines since 2002 to provide anti-terrorism training and intelligence to Filipino troops.
Manila and Washington have recently signed a so-called Enhanced Defense Cooperation Agreement that will allow a greater US military presence in the Philippines.
Filipino activists argue that the agreement reverses democratic gains achieved when decades-old US military bases were shut down in the early 1990s.
The activists argue that the 10-year pact is detrimental to the country's sovereignty.
The Philippine President Benigno Aquino has said the agreement was aimed at deepening US-Philippine ties and would promote "regional peace and security."
However, a large number of Filipinos are against the deal that allows the US to pre-position fighter jets and ships in the region.
Observers believe America's effort to increase its presence in the region is aimed at containing China, which has emerged as the biggest threat to the US hegemony.
On the final day of his Asian tour, President Obama pledged iron-clad military support for the Philippines. The Philippines along with several other regional countries are locked in disputes with China over tiny islets and reefs in the South China Sea.
This is while Beijing had previously asked Washington to stay out of regional disputes.