World News
Activists urge US killer cops investigation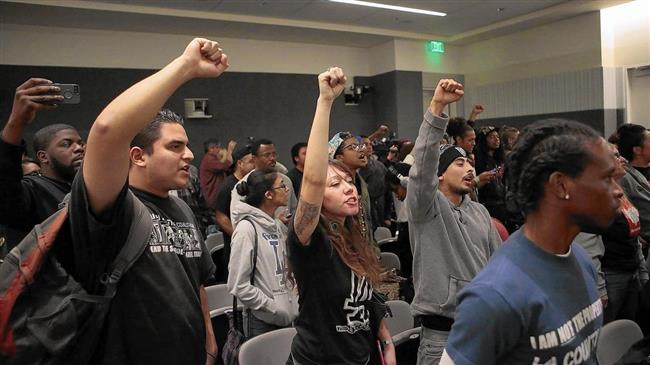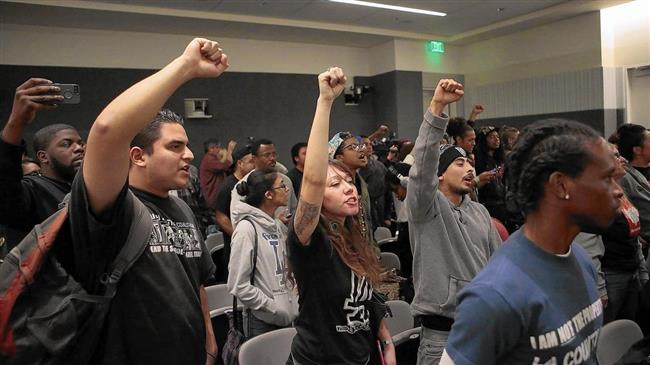 American activists have called for a complete investigation in the death of unarmed black man Ezell Ford killed by Los Angeles Police Department officers.
Gathering at the Los Angeles Board of Police Commissioners, the activists spoke out against killer cops on Tuesday.
The meeting was the first since the release of an autopsy report that showed police officers shot Ford three times, one of them in the back.
The activists lined up to address the commission and Los Angeles Police Chief Charlie Beck, demanding that the department fire the officers who killed Ford and investigate them for murder.
Police set up barricades to block the entrance of peaceful protesters into the meeting.
National Lawyer's Guild Executive Director Jim Lafferty told Press TV that there is no excuse to deny the public access.
"There have been protests here. There have been peaceful. There is no reason for the police to act as they are under attack from their own citizens. They're supposedly here to serve and protect. They're doing neither today," he said.
Lafferty also noted that the barricades set a bad precedent on how the community is allowed to interact with police.
"This is a vital issue. America is now killing sometimes at rate of 100 percent higher than other civilized democracies its own citizens," he said.
The commission refused to comment on Ford's death because the case remains under investigation.
Police Chief Charlie Beck said that statistics show that Los Angeles police shootings were down 31 percent in 2014 compared to the previous year.
However, activists said Beck was not doing enough to work with communities to address the root causes of police violence.
Following the end of the commission hearing, Black Lives Matter Los Angeles delivered a letter to LA District Attorney Jackie Lacey to demand an immediate investigation into Ford's death.