Iran
Middle East
Qasem Suleimani
Syria
Advisor Renews Iran's Support for Syria's War on Terrorism
Senior Advisor to the Iranian Parliament Speaker Hossein Amir Abdollahian, in a meeting with Syrian Ambassador to Tehran Adnan Mahmoud, reiterated his country's support for Damascus's war against terrorism, reminding that the Arab country's sovereignty and independence must be protected.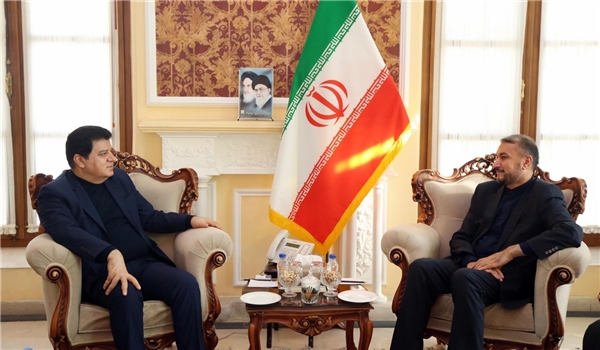 In a meeting with Mahmoud, Amir Abdollahian re-announced Iran's comprehensive support for Syria, saying that Tehran will support all and every measure which preserves the national sovereignty of Syria.
He, elsewhere, referred to Martyr Lieutenant General Qassem Soleimani and admired his efforts in the fight against terrorism and supporting the Syrian nation for the country's independence.
Amir Abdollahian also said Iran welcomes exchanging Parliamentary delegations with Syria and continuation of related talks between the two sides.
The Syrian Ambassador Adnan Mahmoud, for his turn, praised the significant role of Martyr Soleimani in the fight against terrorism, noting that the Resistance Axis will not weaken after him.
"The Islamic Republic of Iran has always stood against the problems and has ultimately become the winner in the political and international arena," he said.
On Thursday, in a press conference in Tehran, Iranian Supreme Leader's top adviser for international affairs Ali Akbar Velayati underlined the need for the American military forces to leave Syria, saying that the resistant and powerful government of Syria will be deployed in Eastern Euphrates region.
"The Islamic Republic of Iran welcomes any measure which protects Syria's territorial integrity, strengthens its national sovereignty and returns stability and tranquility to the region," Amir Abdollahian said in a meeting with Syrian Ambassador to Tehran Adnan Mansour on Monday.
In a relevant development in July, Syrian President Bashar al-Assad in a meeting with Amir Abdollahian had stressed that his country would stand beside Tehran against the US threats and pressures.
"Syria will support Tehran against the US threats and illegal acts against the Iranian nation," Assad said during the meeting in Damascus.
During the meeting, bilateral ties between Iran and Syria, anti-terrorism war in Syria and developments in the region came under discussion.
Amir Abdollahian, for his part, informed Assad about the latest developments with regard to the Iran nuclear deal and the Iranian officials' measures to confront the US hostile policies.