Afghanistan
Asia-Pacific
Advocates call for accountability in Kabul drone attack, decry US 'impunity, secrecy'
Several human rights advocates have denounced the United States' latest decision not to hold any of its military personnel accountable for a deadly drone strike in Afghanistan that killed 10 civilians, including seven children, in August, calling on Washington to punish those involved in the botched attack.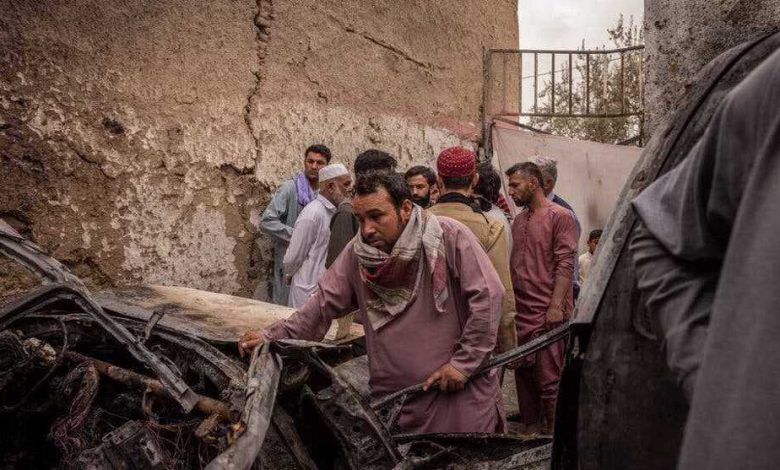 Calls for accountability grew on Tuesday, a day after Pentagon Press Secretary John Kirby told reporters that Defense Secretary Lloyd Austin had approved the recommendations from top commanders not to take any administrative action against those involved in the August 29 strike.
Steven Kwon, founder and president of US-based aid organization Nutrition and Education International (NEI), said in a statement that Washington was sending a "dangerous and misleading message" by failing to punish any members of the military, urging President Joe Biden's administration to do more to help the survivors of the attack and to relocate them to the US.
"I've been beseeching the US government to evacuate directly-impacted family members and NEI employees for months because their security situation is so dire," Kwon said.
"When the Pentagon absolves itself of accountability, it sends a dangerous and misleading message that its actions were somehow justified, increasing security risks and making evacuation even more urgent," he added.
Sarah Holewinski, the Washington Director at Human Rights Watch (HRW), called the lack of accountability for civilian casualties a "message of impunity and secrecy" that undermines US credibility in the world.
She also urged Congress to immediately exercise its oversight over the Department of Defense by conducting a review of "20 years of practices that have resulted in the deaths or injury to civilians."
"After 20 years of announcements, Congress needs to consider reforms to the military's justice system and demand answers from the Pentagon about why past reviews of policy and practice have not led to concrete change," she said in a statement.
On August 29, a US missile hit a vehicle in the Afghan capital, Kabul, with Washington claiming that those who killed were terrorists who were carrying a bomb. Zamarai Ahmadi, an Afghan aid worker, and his family members were killed in the drone strike. He was a longtime worker for the California-based aid group NEI.
The Pentagon maintained the drone strike targeted a Daesh-K terrorist who posed an imminent threat to American troops at the Kabul airport, with Chairman of the US Joint Chiefs Gen. Mark Milley calling it a "righteous strike."
But in September, General Frank McKenzie, the top general of US Central Command, admitted that the drone strike had been a "tragic mistake" that killed civilians, and offered an apology, after some media outlets reported that the US drone strike had apparently targeted the wrong man.
Larry Lewis, a former Pentagon and State Department adviser on reducing civilian casualties, said on Tuesday that the Kabul drone attack was not merely a tragic mistake under unique circumstances but part of a "pattern" of problems that lead to the killing of civilians.
He added that reprimanding individual officials can ensure accountability for the specific bombing and also "promote change."
Arash Azizzada, co-founder of Afghans for a Better Tomorrow, an Afghan-American advocacy group, also urged an end to all US drone strikes in Afghanistan, saying this "failed policy harms lives… and allows for more violence to exist in the country."
He also called for an international investigation to be launched into US military conduct in Afghanistan, including the August drone attack.
"The United States cannot hold the United States accountable," he said. "Time and time again, we have seen the United States say, 'We will look into this; we will see if this was done correctly.' But arsonists cannot also put out the fire in this case."
Justice to be eventually served for US troops exonerated of war crimes: China
Meanwhile, China has said that "the day of reckoning" will eventually come for the US troops exonerated of war crimes "in many countries."
Chinese Foreign Ministry spokesperson Wang Wenbin made the remark at a regular press briefing on Tuesday, after the US refused to punish the US military personnel responsible for the August 29 drone strike in Kabul.
"The US troops' atrocity of killing civilians in Afghanistan is unacceptable. It is all the more outrageous that the US exonerates the perpetrators with impunity on various grounds," Wenbin said.
"Justice may be delayed, but it will not be denied. The era in which the US acted arbitrarily in the world under the pretext of so-called 'democracy' and 'human rights' is over," he said, adding, "The day of reckoning will eventually come for the US military who committed the crimes of killing innocent civilians in many countries."
Wang said thousands had been killed by the US in "covert, unaccountable drone strikes" over the past two decades, adding that, "We should be demanding accountability for anyone involved in this and a full inquiry into this and the entire drone program."
He further called attention to the hypocrisy of the recent "Summit for Democracy" hosted by the United States, which did not include China, Russia, and many other countries.