Iran
Middle East
World News
AEOI Spokesman: Iran Capable of Producing Stable Isotopes without Russia's Help
Spokesman and Deputy Head of the Atomic Energy Organization of Iran (AEOI) Behrouz Kamalavandi said his country's experts enjoy the necessary know-how and capabilities to produce stable isotopes without any assistance by the Russians.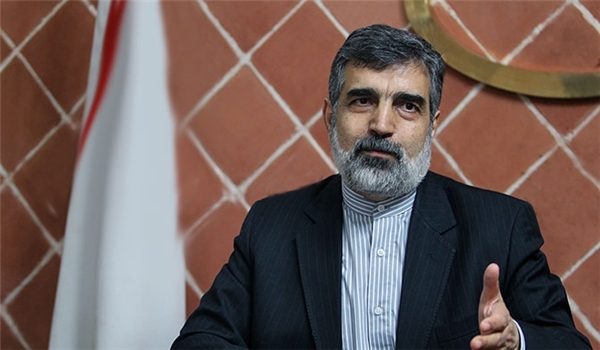 "I should say that technically, we can continue production of stable isotopes even without the Russians and of course, it will certainly be better politically if they stand beside us," Kamalvandi said in an interview with the state TV on Monday.
He underlined that there is nothing that cannot be achieved by Iran's nuclear industry thanks to the high technological know-how the Iranian specialists enjoy.
"We are building a center at Fordow site which will be constructed a few months later to produce stable isotopes without using centrifuges," Kamalvandi said.
His comments came after Iranian Ambassador to Russia Mehdi Sanayee and Deputy Head of Russia's Rosatom Company Nikolai Spassky in a meeting in Vienna reviewed the latest condition of cooperation in the field of peaceful nuclear activities.
During the meeting in the Austrian capital on Friday, Spassky stressed Russia's all-out support for cooperation with Iran in the field of peaceful nuclear energy.
Sanayee and Spassky met on the sidelines of the 14th JCPOA joint commission meeting in Vienna.
The senior Russian nuclear official, meantime, noted that the pause in cooperation over Fordow Fuel Enrichment Plant is temporary and it is because of technical reasons.
Both sides also discussed construction of 2nd plant in Bushehr, cooperation in technical fields and Iran-Russia joint project in Fordow.
Earlier, the Russian nuclear fuel Cycle Company 'TVEL' in a statement had announced that it stopped the plan for changing the application of Fordow Fuel Enrichment Plant.
"Uranium enrichment and the production of stable isotopes cannot be carried out in the same room," the statement reads.
"To resume this work, we must stop and dismantle the cascades, where uranium enrichment takes place, and thoroughly clean the premises and equipment," it added.