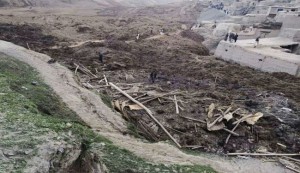 Afghan officials have put the death toll of a catastrophic landslide in the remote northeast of the country at more than 2,100.
A spokesman for the provincial governor, Shah Waliullah Adeeb, said on Saturday that 2,100 people from 300 families were killed on Friday when a hill collapsed on the village of Hobo Barik, in Badakshan province, during heavy rain.
Giving up hope of finding any survivors, rescuers turned their attention to helping the over 4,000 people displaced as the result of the landslide.
Officials expressed concern the unstable hillside above the site of the disaster may cave in again, threatening the homeless as well as the UN and local rescue teams that have arrived in Badakhshan province, which borders Tajikistan.
"More than 2,100 people from 300 families are all dead," Naweed Forotan, a spokesman for the Badakhshan provincial governor, said.
Villagers and a few dozen police, equipped with only basic digging tools, resumed their search when daylight broke but it soon became clear there was no hope of finding survivors buried in up to 100 meters of mud.
The UN mission in Afghanistan said the focus was now on the more than 4,000 people displaced, either directly as a result of Friday's landslide or as a precautionary measure from villages assessed to be at risk.
Their main needs are water, medicine, food and emergency shelter, said Ari Gaitanis, a spokesman from the United Nations Assistance Mission in Afghanistan.
The impoverished area, dotted with villages of mud-brick homes nestled in valleys beside bare slopes, has been hit by several landslides in recent years.
The side of the mountain above Ab Barak collapsed at around 11 a.m. (0630 GMT) on Friday as people were trying to recover belongings and livestock after a smaller landslip hit a few hours earlier.
Hundreds of homes were destroyed in the landslides that were triggered by torrential rain. Officials worry another section of the mountainside could collapse at any time.