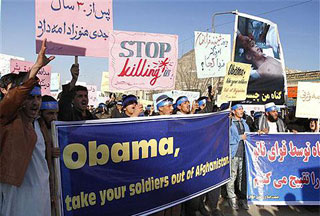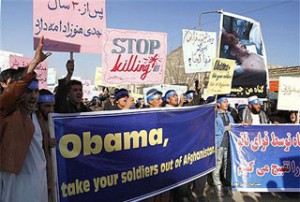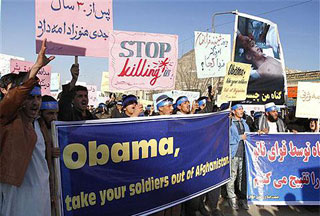 More than a thousand Afghan protesters have staged a demonstration against the killings of ten civilians by foreign troops in eastern province of Kunar.
The demonstrators, most of them students, were chanting slogans against the US and its allies.
Protesters strongly condemned the killing and warned of violent reaction by the public.
The protestors chanted "death to Obama" and "death to foreign forces". The demonstrators also torched a US flag and an effigy of US President Barack Obama.
This is the third demonstration by Afghan people this week.
Military offensives in Kunar, which borders Pakistan, are being led by US Special Forces. The US forces killed the ten civilians in three separate houses.
The US military insists that the victims were armed militants.
A Wednesday statement issued by the office of President Hamid Karzai said the foreign troops had dragged 10 civilians from their homes and shot them dead in the open over the weekend.
Eight of the victims were schoolchildren.
Figures released by the United Nations indicate a 10 percent rise in the civilian death toll from the US-led war in Afghanistan with a good share of fatalities caused by foreign forces.
Meanwhile, the Afghan government says it wants the foreigners who killed the civilians to be handed over to the government.