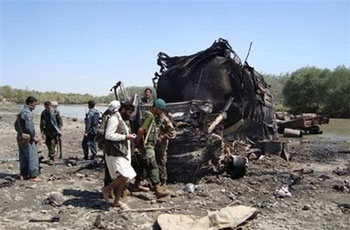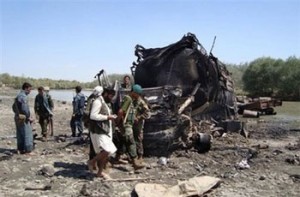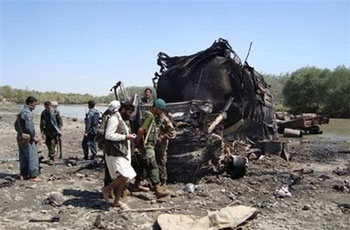 A district governor in northern Afghanistan said Monday that more than 130 people were killed in a NATO air strike last week.
Friday's air strike conducted by American planes was ordered by a German military commander when a large crowd of people was observed through satellite images gathering around the two oil trucks in the Chardarah district in Kunduz province.
"According to interviews that we did with local people and tribal elders, 107 people were killed in Omerkhel and Gul Bagh villages of the province," Abdul Wahid Omarkhel, the Chardarah district governor, said.
He said 15 other people, who had come from neighboring Baghlan province, were also killed in the blast.
More than a dozen people were also killed from the Ali Abad district, Omarkhel reiterated.
He could not say how many of the victims were civilians, but said a large number of children, aged 10 to 16, were among those killed.
The district governor said authorities also listed 27 people who were injured in the air strike.
The district governor also said he submitted a list of casualties to an envoy of President Hamid Karzai who had come to the province for an investigation of the strike.