Afghanistan
Afghan mourners lay to rest victims of US-led strike in Kudzu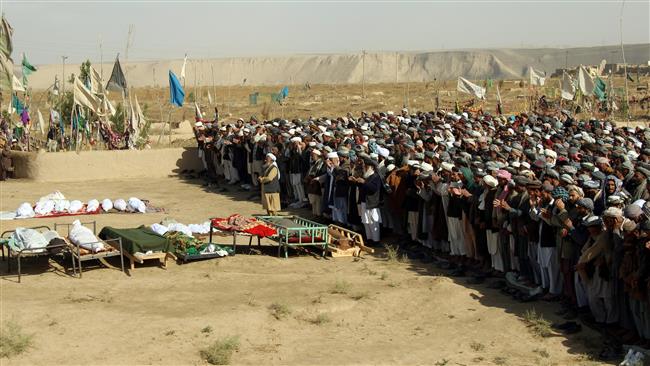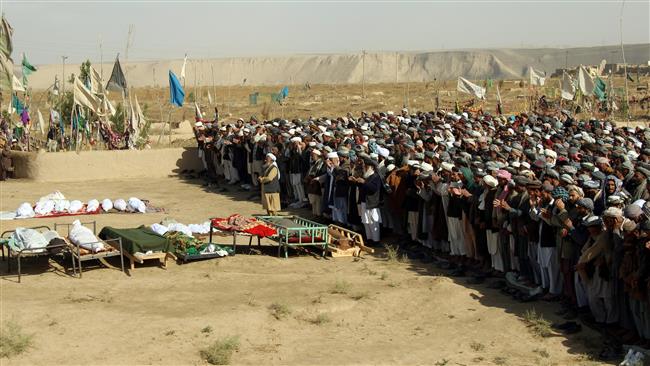 Hundreds of people have taken part in a funeral procession for more than 30 civilians, who were killed in an airstrike carried out by the so-called US-led military alliance near the northern Afghan city of Kunduz.
The funeral was held on Friday for the victims of Thursday's air raid on the village of Buz Kandahari.
The mourners were reported to be angry about the latest US crime as white-shrouded bodies, many of them young children, were laid out for burial.
"My brother and three of his children were killed. My brother had no connection to any group, he was a laborer," said Mawlawi Haji Allahdad, a resident of the village, asking, "Did you see which of those infants and children who were killed by the Americans were terrorists?"
"We will avenge our dead against the Americans and the government," he added.
US Brigadier General Charles Cleveland claimed that the deadly aerial assault was carried out as an act of self-defense against the Taliban militant group.
However, dozens of the relatives of those killed in the US-led raid staged protests outside the governor's office in Kunduz to condemn the attack.
"These bodies you see here are either children or women, they are not Taliban. All innocent children and women killed here — look at the bodies there," said demonstrator Gull Ahmad.
Ex-Afghan president Hamid Karzai condemned Thursday's incident while Amnesty International urged a probe into the strike, saying those killed deserve justice.
"This cannot be another example of inaction in the face of such loss of life," said Champa Patel, Amnesty International's South Asia director.
Government Chief Executive Abdullah Abdullah also expressed his condolences to the victims and vowed an investigation into the incident.
Taliban militants briefly overran Kunduz in early October. They had briefly seized control of the city a year earlier but were pushed out of Kunduz weeks later. They now seek to gain full control of the city.
According to the latest figures provided by the United Nations, there was a 72-percent increase in civilian casualties caused by airstrikes between January and September, with 133 dead and 159 wounded. One third of the fatalities were caused by US-led troops.
Afghanistan has been gripped by insecurity since the US and its allies invaded the country as part of Washington's so-called war on terror in 2001. Many parts of the Asian state still remain plagued by militancy despite the presence of foreign troops.
Also on Friday, UN experts estimated in a report that there are about 45,000 militants in Afghanistan, with foreigners comprising 20-25 percent of them.
They also warned that militants loyal to al-Qaeda have recently taken on a more active role in Afghanistan while the position of the Daesh terrorist group in the country "has distinctly weakened."
These "bad actors … mutually reinforced each other and presented a significant and rising terrorist challenge not only for the country but also for the international community," the experts quoted some unnamed officials as saying.