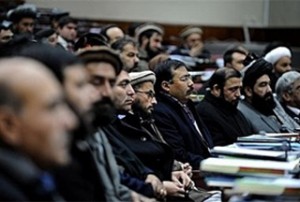 Afghan lawmakers have concluded their four-day debate on President Hamid Karzai's second list of cabinet nominees, on which they will vote Saturday.
Karzai was forced to revise his list of nominees after the parliament rejected most of his first choices — 17 of the 24 candidates.
Parliamentarians spent the past few days grilling the new nominees, before preparing to vote in a secret ballot on the 14 men and three women Karzai has nominated.
The parliament, however, says that it has yet to receive a nomination for the post of the minister of energy and water.
One parliamentarian said on Thursday that the lawmakers have reached an agreement on the new nominees and will vote early on Saturday. The results are expected to be announced shortly after the vote.
Karzai has already prepared a third list in case more nominees are rejected by the parliament during the second vote. However, lawmaker Shukria Barakzai said that she believed more candidates would pass the second round, despite division among the parliamentarians.
Karzai is bent on forming a government ahead of an international conference in London on January 28. Karzai is expected to be accompanied by up to 11 ministers at the conference.