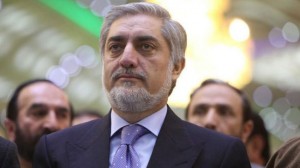 Afghanistan's leading presidential contender, Abdullah Abdullah, has received another boost from a former rival, Zalmai Rassoul.
Following the Sunday announcement about his withdrawal from the presidential race, Rassoul asked his supporters to throw their weight behind Abdullah in the second round.
Rassoul is the second Afghan presidential contender to endorse Abdullah after a similar move by another first-round candidate, Gul Agha Sherzai.
Rassoul said his decision to back Abdullah came after consultations with his election campaign team in a bid to help with the country's political stability and national unity.
He added that the people of Afghanistan proved that they are willing to move towards political and cultural stability, expressing his appreciation to all those that voted for him.
According to local press reports, Rassoul's campaign team expressed their support for Abdullah's team during the second round of the polls based on an agreement that the two teams will work on decentralization, change in electoral laws and continuation of peace process.
Rassoul came in third in the final vote tally conducted by the Independent Election Commission of Afghanistan (IEC), capturing 11.5 percent of the total votes.
Abdullah, who came in first in the first round with 44.9 percent of the votes, will face second place finisher, economist Ashraf Ghani, who received 31.5 percent of the total votes.
The second round of the presidential election is scheduled for next month.