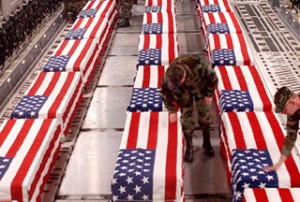 The death toll rises for foreign troops in Afghanistan, as roadside bombs and insurgents attacks have killed five more US troops in the conflict-torn country.
NATO forces said in a statement that four troops "died after their vehicle struck an improvised explosive device (IED)."
The Alliance confirmed that the dead were all Americans.
The incident happened somewhere in the west of the troubled country, but the exact location and the names of the service members have not yet been released.
On Thursday, International Security Assistance Force (ISAF) said that another US soldier had died Wednesday in western Afghanistan after a NATO military convey clashed with the insurgents in the volatile region.
The latest deaths come as the newly-appointed NATO Secretary General Anders Fogh Rasmussen makes his first visit to Kabul.
Roadside bombs and ambushes have already killed more than 15 NATO troops across the war-ravaged country during the first week of August.
July was the deadliest month for international forces since the invasion of Afghanistan in 2001. Seventy-five foreign troops — including 43 Americans — were killed in militant attacks across Afghanistan, particularly in the troubled southern and eastern provinces during the deadly month.
Civilians, however, have been the main victims of violence in Afghanistan. The UN has warned that an increase in the number of American troops in Afghanistan could mean a greater loss of life in the war-torn country.
The UN Assistance Mission in Afghanistan indicates that the number of Afghan civilians killed either by US-led airstrikes or Taliban attacks has risen beyond the 1000 mark in the first half of 2009.