Afghanistan
Asia-Pacific
Afghanistan's runaway former president vows to return, denies he fled with cash
Afghanistan's runaway former president Ashraf Ghani has vowed to return to the country and demand "justice" for Afghans, a few days after he fled just as advancing Taliban militants arrived at the gates of the capital, Kabul, to complete a takeover of the country.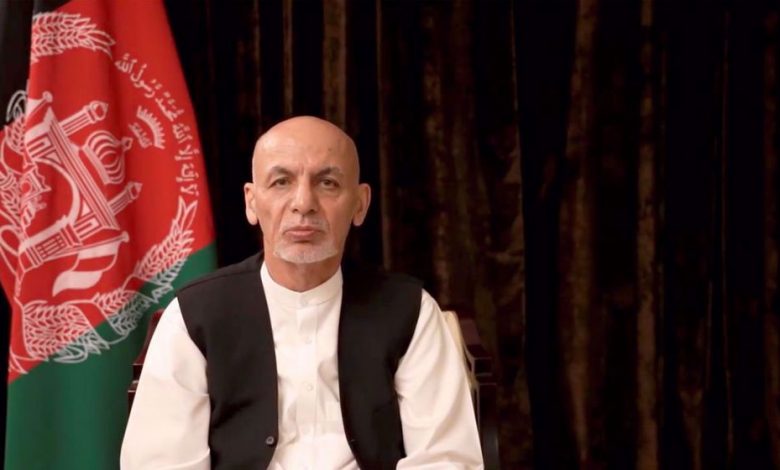 The 72-year-old Ghani made the remarks during a Facebook video statement addressed to the public on Wednesday, pledging that he would return to the war-ravaged country in the near future to seek "justice" for all Afghan citizens.
"I am in consultation with others until I will return so that I can continue my efforts for justice for Afghans," the ousted president said, claiming that he had decided to leave his countrymen in a bid to prevent any further bloodshed.
He said his departure from Afghanistan had also been meant to avert any "huge disaster" after Taliban forces broke promises to not enter Kabul over the weekend.
The Taliban ruled Afghanistan from 1996 to 2001, when US-led NATO troops ousted their government. In recent weeks, however, and as foreign forces abruptly withdrew from Afghanistan, the militants rapidly overran the country, facing little or no resistance from Afghan army troops. The Taliban ultimately recaptured Kabul on Sunday, shortly after Ghani fled the country to an undisclosed destination.
The foreign military withdrawal put an end to a futile two-decade war in the South Asian country.
The Taliban have now taken over power. It is unclear how Ghani would be able to return to Kabul and retake the presidency.
Earlier, Nikita Ischenko, a spokesperson for the Russian Embassy in Kabul, alleged that Ghani had fled Afghanistan with four cars that had been filled to the brim with money. "They tried to put part of the money into a helicopter, but everything did not fit," the official told Sputnik, before adding that "some of the money was left on the runway."
Earlier on Wednesday, the Afghan ambassador to Tajikistan told the BBC that Ghani had escaped with 169 million dollars in cash in bags shortly before the capital fell to the Taliban.
In his Wednesday remarks, however, Ghani rejected the allegations, stressing that they were mere "lies."
"I hope in these coming days that we will get over this and Afghanistan will experience peace and stability," the former president said.
He also promised to explain in detail what led to his decision to leave the country at a later time.
Ghani said he welcomed talks between Taliban officials and former Afghan president Hamid Karzai, who said recently that he had launched a coalition group to ensure peace for Afghanistan.
Afghanistan's deposed vice president Amrullah Saleh claimed in a tweet on Tuesday that with Ghani gone, he was now Afghanistan's "legitimate caretaker president," citing the country's constitution that "in absence, escape, resignation or death of the president, first vice president becomes the caretaker president."
Saleh also vowed to resist the Taliban and invited the Afghan people to "join the resistance..
UAE grants asylum to Ghani
Ghani's whereabouts were unknown until Wednesday and there had been speculations that he had fled to Oman, Tajikistan, Uzbekistan, or Lebanon, where his wife comes from. However, the United Arab Emirates (UAE) on Wednesday confirmed that it had allowed Ghani in on humanitarian grounds.
"The UAE Ministry of Foreign Affairs and International Cooperation can confirm that the UAE has welcomed President Ashraf Ghani and his family into the country on humanitarian grounds," the ministry said in a brief statement.
Ghani no longer a figure in Afghanistan: US
US Deputy Secretary of State Wendy Sherman told reporters in a press conference on Wednesday that Ghani "is no longer a figure in Afghanistan."
However, she declined to comment on the UAE's decision to grant the ousted Afghan president asylum.