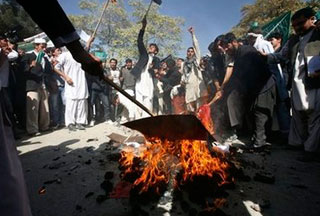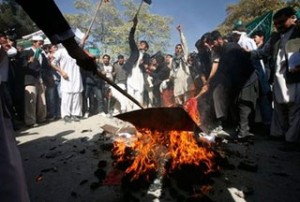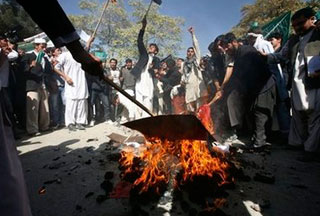 Hundreds of Afghan university students have protested against foreign troops for alleged burning of a copy of Muslim holy book of Quran.
Around 1,000 protesters marched through the streets of the capital city of Kabul before gathering in front of the Afghan Parliament building.
The angry people also set on fire an effigy of US President Barack Obama and a US flag. "Death to America" was heard during Sunday morning's demonstration.
Earlier this month, locals said that international troops burned a copy of Quran during an operation against Taliban militants in the province of Wardak in southern Kabul.
The protesters urged the Afghan government to arrest and punish those soldiers who burned the holy book.
A spokeswoman for the NATO-led International Security Assistance Force (ISAF) told AFP the claims had been investigated and found to be groundless.
Earlier last week, there had been similar rallies but on a smaller scale in the eastern city of Jalalabad and southern Kandahar.
Currently, there are 100,000 US and NATO troops in the war-wrecked country as public support for the US-led eight-year-old war in Afghanistan is waning.