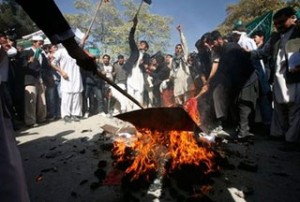 Thousands of people in eastern Afghanistan have taken to the streets to protest the death of four children in an explosion they blame on US forces.
Afghan protesters in the city of Jalalabad shouted Death to America and burned an effigy of President Barack Obama.
Protesters strongly condemned the killing and warned of violent reaction by the public.
Wednesday's blast occurred near a school south of Jalalabad in Nangarhar province, killing four children and a policeman. The incident also injured at least 80 civilians, mostly children.
Police say the incident is being investigated. Police say the blast was caused by a passing police vehicle hitting a mine, but the protesters blame the incident on US soldiers.
The UN Assistance Mission in Afghanistan said in a recent report that 2,038 civilians had died in the first 10 months of 2009 as a result of US-led operations in the conflict-torn country.
Civilians in Afghanistan continue to pay the price for Washington's so called 'war on terror,' with the latest figures released by the United Nations indicating a 10.8 percent rise in the civilian casualties compared to last year.
A good share of these fatalities is caused by US-led foreign forces.