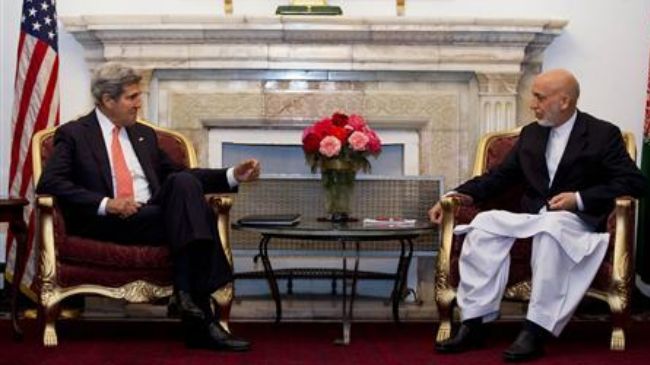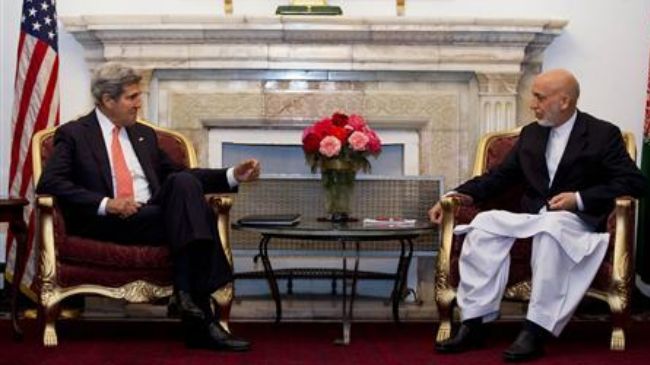 Afghans have expressed strong opposition to a potential deal on the US troops' future in Afghanistan, calling for the foreign forces' withdrawal as soon as possible, Press TV reports.
Afghan President Hamid Karzai met US Secretary of State John Kerry in the capital, Kabul, on Friday.
Kerry arrived in the Afghan capital for urgent security talks as an end of October deadline looms for completing the deal, which would allow US troops to remain in Afghanistan beyond 2014.
The two are due to continue the talks on Saturday.
Karzai said earlier this month that he was ready to walk away from the negotiations on the Bilateral Security Agreement (BSA). However, Washington has repeatedly pressed for the deal to be signed by the end of October.
The Afghan president has denounced Washington's demands as unreasonable, saying he is in no hurry to sign the agreement with the United States.
Afghan politicians have reacted negatively to the potential signing of agreement.
Afghanistan's former Prime Minister Ahmad Shah Ahmadzai told Press TV that the deal is "the direct continuation" of the Asian country's "occupation" and "war."
Most Afghans are also closely following the talks between Kerry and Karzai as they want to know how their president would protect Afghanistan's sovereignty.
"Foreign troops are here for their own interests. Their presence has not helped us at all and if they stay here, violence will not end," said an Afghan.
Afghan people blame the foreign troops for killing innocent civilians during their nighttime raids. They want their own forces to take the lead to provide the country's security.
"We want our own police and army to defend our country against the militants. American forces should go home," said another Afghan citizen.
Karzai has demanded American guarantees against future foreign intervention and is also opposed to US demands for any post-2014 mandate to conduct unilateral counterterrorism and counterinsurgency operations in Afghanistan.
The United States wants to keep as many as 10,000 troops in Afghanistan, but if no agreement is signed, all American troops would have to leave by December 31, 2014.