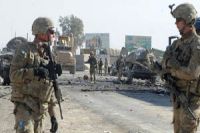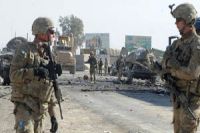 The Afghan Foreign Ministry says strategic talks between Kabul and Washington over the so-called bilateral security agreement remain suspended.
Foreign Ministry spokesperson Janan Mosazai made the announcement in his weekly press briefing on Sunday.
Under the strategic agreement, US-led soldiers would be allowed to remain in Afghanistan beyond the 2014 withdrawal deadline.
The remarks come after a senior American diplomat said the United States was hopeful of striking a deal with the Afghan government over the US troops' presence in the war-ravaged country beyond the deadline.
Addressing the Senate, James Dobbins, the State Department's special envoy for Afghanistan and Pakistan said on Thursday such a deal would allow a large number of American troops to stay in Afghanistan.
President Hamid Karzai called off the talks last month just a day after the Taliban opened a political office in Qatar's capital Doha. Karzai has accused Washington of duplicity in its efforts to kick-start peace talks with Taliban militants.
Washington had promised to withdraw all combat forces from Afghanistan by 2014. However, it has been locked in tricky negotiations with Kabul over a strategic partnership beyond 2014.