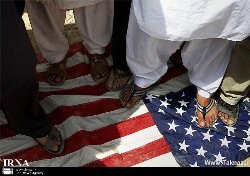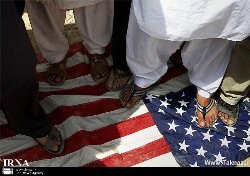 The Afghan people are preparing to hold a massive protest against civilian deaths being perpetrated repeatedly by the US-led NATO forces in Kabul and the southern province of Helmand.
Following the escalation of breaching human rights by the occupying forces and revelations of NATO spokesman over killing civilians in Afghanistan, indignation over the ruthless massacre of innocent civilians by the US-led occupying forces is on rise in the country.
Unspecified number of civilians were killed and wounded in the NATO-led International Security Assistance Force airstrike in Helmand on Friday.
Meanwhile, NATO spokesman revealed that the US-led forces targeting Taliban fighters accidentally killed and wounded civilians.
He said it occurred when the NATO called in an airstrike on two vehicles believed to be carrying Taliban members. NATO team assessing the damage discovered the civilians following the airstrike.
Civilian casualties has been one of the most contentious issues in Afghanistan, exacerbating tensions in relationship between international forces and Afghan President Hamid Karzai.
Earlier this month, Karzai harshly criticized the NATO inhuman actions over civilian casualties, calling for withdrawal of foreign forces from Afghanistan.
According to United Nations report earlier this month, over 2,777 civilians were killed in Afghanistan in 2010, the deadliest toll in more than nine years of war.