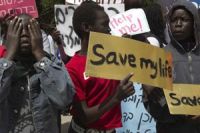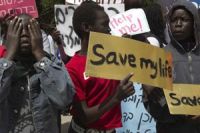 Thousands of undocumented African asylum seekers are still camping out in Tel Aviv to protest Zionist regime's policy toward refugees.
According to IRIB, the asylum seekers, who have turned a park in south Tel Aviv into a protest site since last week, continued their demonstration on Wednesday.
Thousands of the African migrants, mostly from Eritrea and Sudan, have been spending cold nights in the park. They have promised to continue their protest until their demand is met.
They have been protesting for months for refugee status and have called for the release of all imprisoned refugees.
They have also been protesting Zionist regime's implementation of the so-called anti-infiltration law on asylum seekers.