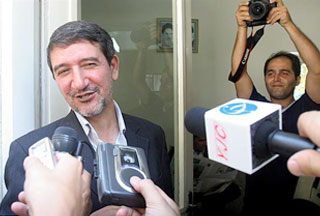 As the controversy over the Iranian first vice presidential choice grows, a top aide to the president rejects his alleged affirmation that Mahmoud Ahmadinejad would not backtrack on the issue.
Iranian media outlets quoted Mojtaba Samareh-Hashemi as saying in an interview on Tuesday that there would be no re-examination of the issue of the post granted to Esfandyar Rahim-Masha'i.
"Opposition to his [Mashaei's] appointment does not have compelling reasoning behind it to prompt a review of his appointment," the aide had added.
Masha'i, whose daughter is married to Ahmadinejad's son, emerged as a figure surrounded by controversy when remarks attributed to him were suggestive of a friendship between the Iranian nation and the Israelis.
President Ahmadinejad has been facing harsh criticism from his supporters as well as opponents over the choice of Rahim-Masha'i as his right-hand man.
Although Iran has 12 vice presidents, only the first vice president can lead Cabinet meetings in the absence of the president.
After the Samareh-Hashemi interview on Tuesday, however, a senior Iranian parliamentarian said that Leader of the Islamic Revolution Ayatollah Seyyed Ali Khamenei, who has the last say on all matters of the state, had weighed in on the issue.
"Without any delay, the removal or acceptance of Masha'i's resignation must be announced by the president," Mohammad-Hassan Aboutorabi-Fard, the first Majlis vice speaker, told the Iranian Students News Agency on Tuesday.
In reports circulating since the news, however, Samareh-Hashemi said he had not suggested that there would be no changes but that there had until then been no changes in the president's decision to appoint Rahim-Masha'i.
"What I said… was not correctly reflected in some media outlets," he said. "What I said was that there has been no change in this regard, not that there wouldn't be in the future."