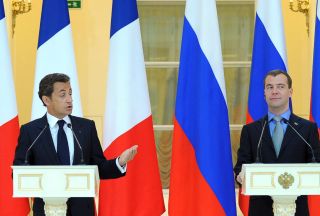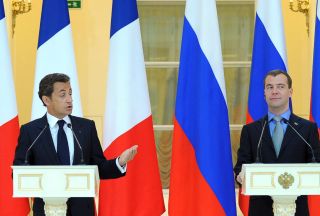 Three days after the European Union agreed to increase pressure on Iran by imposing unilateral sanctions, France seeks swift dialogue with Tehran.
French President Nicolas Sarkozy announced on Saturday that Paris is ready to start talks with Iran over its nuclear program at the International Atomic Energy Agency "without delay," Reuters reported.
The talks would be held "on the basis of Brazilian and Turkish efforts and the response sent out by Russia, France and the United States," a spokesman for Sarkozy's office was quoted as saying.
The spokesman was referring to a June 9 sanctions resolution adopted by the UN Security Council (UNSC), broadening earlier financial and military restrictions.
Last Month, Iran, Brazil and Turkey issues a joint nuclear fuel swap declaration following pro-diplomacy talks in Tehran aimed at rendering fresh sanctions against Iran unnecessary.
Under the declaration, Iran agrees to swap 1,200 kg (2,645 lb) of its low-enriched uranium on Turkish soil for fuel for a medical research reactor.
The spokesman added that the French leader had also called for the resumption of nuclear talks between Iran and the so-called P5+1 – the five permanent members of the UNSC plus Germany.
Paris was a strong supporter of the US-led campaign for the imposition of a fourth round of punitive UNSC sanctions against Iran over allegations that Tehran's nuclear program may not be entirely civilian.
The remarks were made in St. Petersburg during a meeting with Russian President Dmitry Medvedev, whose country has faced criticism by Iranian officials for conceding to the sanctions campaign and failing to support to its longtime trade and energy partner by endorsing the May 17 Tehran declaration.
As a veto-wielding permanent member of the United Nations Security Council, Russia reached deals with Washington to remove clauses from the sanctions draft, but warned other countries against bypassing the UNSC by imposing one-sided sanctions.
The EU announced on Thursday that officials had reached an initial agreement on unilateral sanctions against Iran, following similar moves by the US and Australia.
Moscow responded to the 27-memebr bloc's decision by merely expressing 'disappointment.'
Iran — firmly rejecting Western allegations that its nuclear program harbors a secret military drive — has sharply criticized the US and its allies for their stance on the Tehran declaration.