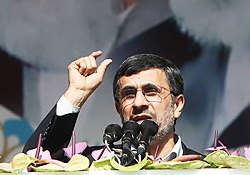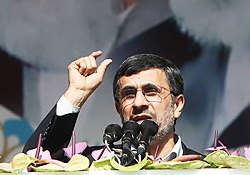 Iran's president has said in his address to the Bahman 22nd rallying people in Tehran that the world is changing, and that world people are disturbed and frustrated
Mahmoud Ahmdinejad said that "men's ideals during the history have not been realized, and oppression and discrimination have been widespread."
"The enemies of the humanity have annihilated thoughts through orchestrated media propaganda and apparent cultural atmosphere," asserted the President, "they have overwhelmed the human dignity," he added.
Ahmadinejad pointed out that world's current issue was the absence of a 'righteous leadership.'
"This issue is quite prominent in international centers for managing world affairs. The arrogant powers and uncultured Zionists have reached the end of their path, heading toward a dead end," he added.
"Human experiences, which established themselves with the ideal of man's salvation, and found opportunity and space in history, all failed," asserted Ahmadinejad.
"Marxism has gone and Capitalism is in deathbed," added the President.
Ahmadinejad believed that the perfect among the people is he who is most pious, most equitable, and most loving. "He who opens all doors to science, cognition, and love for humanity, he awakens human instinct, promotes man's dignity, and presents God's all blessings and beauties to him," he said.
"He who is equally kin to all tribes of man, just as the prophet and the Creator are for all, he is for all as well. He loveth all, and sufferth all human sufferings," Ahmadinejad asserted.
He pointed to the Coming of Messiah, the Savior of the Man. "he is expected. He, who is the most precious gift from God not only to man, but also to universe," the president added.
"Yes. The Son of the Prophet of the God (as), the Promised of the Umam (all followers of Abrahamic religions ), and a heir to Prophets and the Selected, he cometh and presents pure truth and true guidance, and he is who will help man in his ascend to heavens," continued Ahmadinejad.