Egypt
Ahmadinejad appreciates Egyptians welcome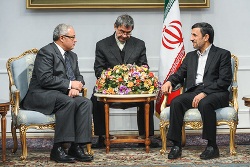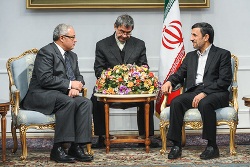 Iran's President has said improving ties between Egypt and Iran would help security, peace and fraternity.
The government website reported that Mahmoud Ahmadinejad had met with Hisham Zazou, Egypt's Minister of Tourism.
Ahmadinejad assessed Iran-Egypt ties highly important and asserted that "if two pioneers of culture and civilization, Iran and Egypt, cooperate, they can make great events possible, which brings peace, security and fraternity for all."
"Cooperation in tourism between the two countries can provide a model for expanding ties in other fields of economy, trade and science," he added. The President expressed his gratitude for Egypt's president and officials' welcome during his visit to the country. "All nations face problems, and I am confident that Egyptian nation will overcome all problems, since it is a pioneer nation, bound to success," he asserted.