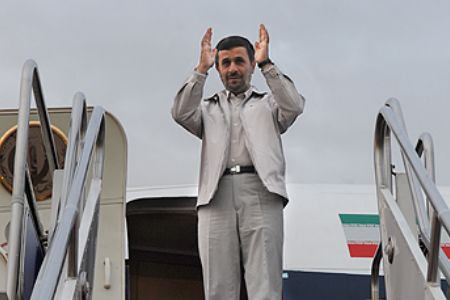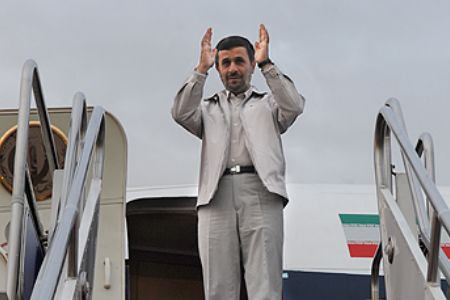 Iranian President Mahmoud Ahmadinejad has arrived in the Azeri capital of Baku to attend the upcoming Caspian Sea summit and to discuss relations with Azeri officials.
Iranian Foreign Minister Manouchehr Mottaki and the country's Energy Minister Majid Namjou accompany President Ahmadinejad in his two-day official visit.
The Iranian head of state will attend the third meeting of the leaders of Caspian littoral states in order to negotiate the legal regime of the sea.
Before his departure on Wednesday, President Ahmadinejad told reporters that the Islamic Republic welcomes the expansion of ties with other Caspian littoral states.
He said the Caspian Sea provides great potential for cooperation between the littoral states and added there were major issues that needed to be discussed among the countries bordering the sea.
The Iranian president also highlighted relations with Azerbaijan and said he will discuss bilateral cooperation as well as regional and international developments with his Azeri counterpart during his visit.
The Caspian Sea is the largest enclosed body of water on earth by area, variously classed as the world's largest lake or a full-fledged sea.
The maritime and seabed boundaries of the Caspian Sea have yet to be demarcated among Azerbaijan, Iran, Kazakhstan, Russia and Turkmenistan — the five countries bordering the sea.
Despite extensive negotiations, the legal status of the Caspian Sea has been unclear since the breakup of the Soviet Union in 1991.
The Caspian Sea legal regime is based on two agreements signed between Iran and the Soviet Union in 1921 and 1940.
Azerbaijan, Kazakhstan and Turkmenistan — the three new littoral states, established after the collapse of Soviet Russia — do not recognize the prior treaties, triggering a debate on the future status of the sea.
During his stay, the Iranian chief executive is also scheduled to meet with top Azeri officials, including President Ilham Aliyev to discuss bilateral cooperation, particularly in economic sectors.
President Ahmadinejad is expected to meet with other counterparts from Caspian Sea littoral states to discuss ways to expand cooperation.