Iran
Middle East
Ahmadinejad: Arrogant Powers Looking for Conflict among World Nations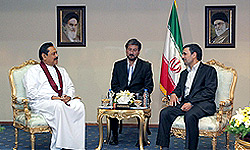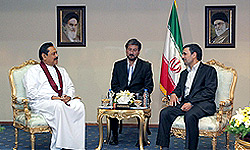 Iranian President Mahmoud Ahmadinejad lashed out at the arrogant powers for their bullying policies, and said that these power seek to stir strife and conflict among other world nations.
"To continue their rule and dominance over the world, the arrogant powers are after sowing discord and conflict among (other) nations," Ahmadinejad said in a meeting with Sri Lankan President Mahinda Rajapaksa in Kuwait on Wednesday.
He stressed that if all the world powers want to make use of the apparatus that they have at hand against others, there will be no longer any trace of tranquility and security in the world.
The Sri Lankan president, for his part, reiterated his country's determination for expanding ties with Iran, and called for the removal of obstacles and problems blocking the path of broadened cooperation between the two countries in different fields, specially the energy sector.
President Ahmadinejad and the Sri Lankan president are in Kuwait for the first Asia Cooperation Dialogue (ACD) summit.
The two-day ACD summit opened in the Kuwaiti capital on Tuesday. Major Asian countries, including China, Japan, and India, as well as the members of the Persian Gulf Cooperation Council (PGCC) are attending the summit.
The ACD was formed in June 2002 in Cha-Am, Thailand, where 18 Asian Foreign Ministers met together for the first time. The ACD is a continent-wide forum, the first of its kind in Asia. More specifically, the ACD aims to constitute the missing link in Asia by incorporating every Asian country and building an Asian Community without duplicating other organizations or creating a bloc against others.