Iran
Ahmadinejad attends last cabinet session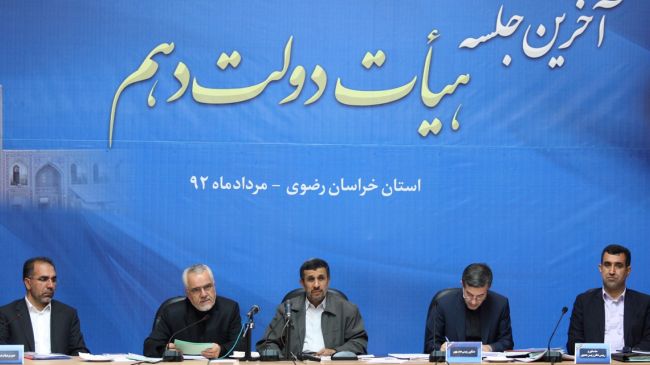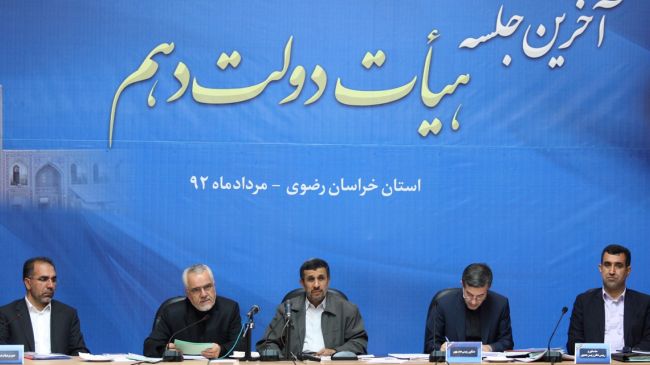 Outgoing Iranian President Mahmoud Ahmadinejad has attended the last cabinet session of his second four-year term in office.
The meeting was held in the city of Mashhad in the northeastern Khorasan Razavi Province on Wednesday.
Iran's First Vice-President Mohammad-Reza Rahimi, the cabinet members and presidential advisors were also in attendance of the meeting, which was chaired by Ahmadinejad.
They thanked the Iranian president for his services and presented him with a plaque of honor as well as a copy of the holy Qur'an.
Ahmadinejad will be replaced by President-elect Hassan Rohani, whose inauguration is scheduled for August 4, one day after his endorsement by Leader of the Islamic Revolution Ayatollah Seyyed Ali Khamenei.
On July 25, Ahmadinejad told reporters that he will continue serving Iran after he leaves office. He said he would continue to help out wherever it was necessary.
Fars News Agency reported on July 30 that Ahmadinejad has been given permission by Iran's Supreme Cultural Revolution Council to open an "international university" in Tehran.
Ahmadinejad has a doctorate in transportation engineering from Iran's University of Science and Technology.