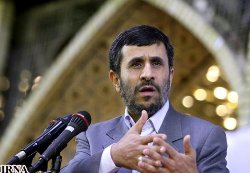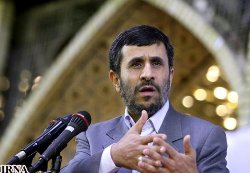 Iranian President Mahmoud Ahmadinejad blasted the attempts made by the arrogant and colonialist powers against the other countries, and urged the world nations to become united against the bullying powers.
He also reiterated on Monday that independent states by adopting rational stands can thwart plots of their enemies.
President Ahmadinejad made the remark in a meeting with Lebanese caretaker Foreign Minister Ali al-Shami in Tehran on Monday.
The global arrogance is doing its best to save the Zionist regime through suppression of governments and nations that are against the West's policies.
Ahmadinejad underlined the need to adopt a unified stand in dealing with the bullying powers, and said the arrogant and colonial powers under the guise of backing nations pursue their ill-wishes.
President Ahmadinejad thanked for participation of Lebanese officials in the International Nowrouz Festival and said the occasion is regarded as a chance to promote peace and brotherhood among all nations.
Ali al-Shami , for his part, said that the two countries are determined to upgrade current level of relations and cooperation .
Expressing satisfaction with his participation in the festival, he said, "I had the honor to represent the Lebanese government and nation in the event."