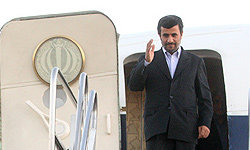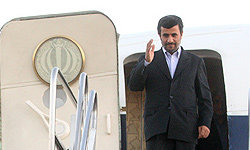 Iranian President Mahmoud Ahmadinejad is scheduled to pay a visit to the Iraqi capital in November in a bid to take part in an international conference on terrorism.
The 2nd International Conference on the Global Fight against Terrorism is scheduled to be held in Baghdad early in November.
In addition to President Ahmadinejad, leaders from Pakistan, Iraq and Afghanistan will also take part in the event.
The First International Conference on Global Fight against Terrorism was held here in Tehran on June 25, 2011 with several high-ranking officials and international figures in attendance.
The event brought together senior officials from at least 60 countries, and representatives from several international organizations, including the UN.
The two day event was aimed at increasing international convergence and coordination in fighting terrorism and with the slogan of "A World without Terrorism".