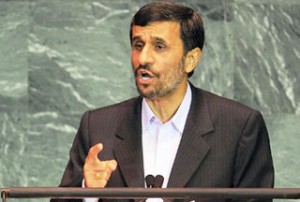 President Ahmadinejad says Iranians' "Down with the US" slogan is a result of the "ugly behavior" of the United States governments.
In an interview with the National Public Radio (NPR) on Thursday, Iranian President Mahmoud Ahmadinejad noted that even the US President Barack Obama in his remarks has accepted the fact and has called for a change in the way Washington treats other nations.
The Iranian president meanwhile noted that friendship is more sustainable than animosity and voiced Iran's readiness for dialogue with the US, Fars news agency reported.
Asked about the reason behind the "Down with the US" slogan chanted in Iran, Ahmadinejad said "this is their (the Iranian nation's) reaction to the ugly behavior of the US governments."
The Iranian president was also asked to explain his remarks on the Holocaust, which he had delivered during a speech on Al-Quds Day.
"I have a number of questions with respect to the Holocaust: Why is the Holocaust the sole historical event that has been magnified, and why politicians have paid special attention to this event and have approached it with bias. Why the people of Palestine have to pay the price for it and why no one is allowed to launch independent and logical investigation into the Holocaust," he told the NPR.
"Currently there are a number of prominent historians, who are serving prison terms on charges of investigating the Holocaust. These are serious questions and I call on those who care for human rights to answer these questions."