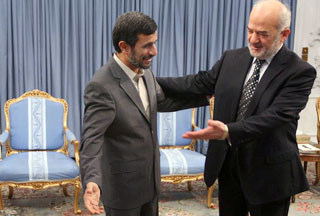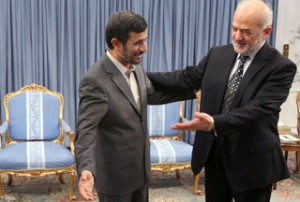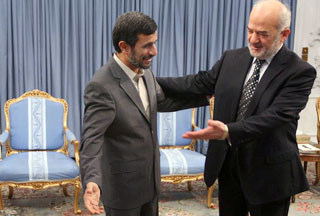 Iranian President Mahmoud Ahmadinejad says the Iraqi nation will finally persevere despite all the problems that have been created for the country.
"With fine qualities such as theirs, the Iraqi nation has a bright future ahead of it. It will undoubtedly stop its enemies in their tracks and take up its responsibilities with the understanding and foresight that it has," Ahmadinejad said in Tehran on Monday.
"The region will benefit from a strong and united Iraq, a point which creates great fear for enemies, but something they can do nothing about," he added.
The Iranian president, who was in a meeting with the visiting Iraqi politician Ibrahim al-Jaafari, also commented on the global status and said that "liberal democracy", had started to fall apart around the world.
"The new global condition gives Muslims and independent nations a historic opportunity to reconstruct and propagate Islamic and humanitarian ideas," he said.
Jaafari, for his part, congratulated the Iranian president on his election victory and said Ahmadinejad's success was not simply the victory of an individual, but the victory of the Islamic Republic's system of government.
The Iraqi politician said Iran's presidential elections were a great achievement for the Islamic world and mankind in general, adding that Ahmadinejad would be remembered in history, even after his term was over, as a figure that served the Muslim community.
The Iraqi politician also pointed out that the Islamic Republic of Iran was a great regional power, which derived its strength from its religious establishment.
Ibrahim al-Jaafari served as Iraq's prime minister between 2005 and 2006. He currently leads the National Reform party.