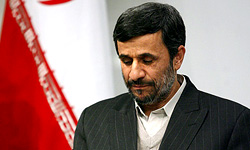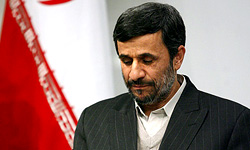 Iranian President Mahmoud Ahmadinejad congratulated Secretary-General of the Lebanese Hezbollah Movement Seyed Hassan Nasrallah on the 6th anniversary of Lebanon's victory against the Israeli invasion in Summer 2006.
"The 33-day war has no doubt been the greatest victory of the Lebanese and regional resistance, a war in which the soldiers of resistance managed to break the fake awe of the occupying and aggressor regime and rocked the pillars of oppression and tyranny," Ahmadinejad said in a message to Nasrallah.
He prayed for increasing healthiness and success of Nasrallah and other Islamic resistance fighters as well as increasing power for the nations.
Israel launched a heavy attack over southern Lebanon in summer 2006 in a bid to undermine Hezbollah military power but it failed to materialize the plot; the UN Resolution 1701 put an end to the 33-day conflict imposed on Lebanon after the Lebanese pushed the Israelis back to the borders.
Also, in separate message to Nasrallah on Friday, Iranian Parliament Speaker Ali Larijani hailed the victory of the Lebanese resistance movement of Hezbollah over the Israeli regime in the 33-day war in 2006 as an embarrassing defeat for Tel Aviv.
The brilliant victory of the resistance movement was the indication of the efficiency of the people's faith and patience against the deadly modern weapons, Larijani said in his message.