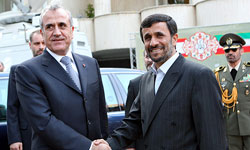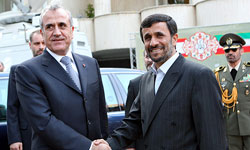 Iranian President Mahmoud Ahmadinejad presented a home-made Iranian nanoscope to Lebanese President Michel Sulayman.
"The device is highly necessary for scientific and research projects and has completely been manufactured by Iranian scientists," Ahmadinejad said during a joint press conference with Sulayman, where he gifted the device to the Lebanese president.
Ahmadinejad pointed out that the nanoscope is a technologically complicated and advanced device and that only 5 or 6 countries have acquired or developed the technological know-how to produce the device.
"I, on behalf of the Iranian nation, kindly present my dear brother, the honorable president of Lebanon, with one of these devices. I know that his Excellency (President Sulayman) is in pursuit of the construction, advancement and development of Lebanon by all means and from the bottom of his heart and this device is gifted to him as a symbol of our solidarity and joint efforts on the path of science and construction," he added.
Ahmadinejad later briefed Sulayman about the operation of the nanoscope.
Ahmadinejad arrived in Beirut Wednesday morning to discuss expansion of bilateral ties and cooperation and exchange views over a range of regional and international issues in meetings with senior Lebanese officials. Thousands of the Lebanese people and officials extended an unprecedentedly warm welcome to Ahmadinejad after his arrival at Beirut airport.
The Iranian President had also earlier gifted similar Iran-made devices to the Brazilian and Venezuelan presidents as well as the Qatari Emir.
The production of the Iranian nanoscope, commercially known as NAMA, began in May 2007. The device which brings much scientific progress to research in various fields and provides nanotechnology researchers with analytic services has now become a necessary tool of advancement in the field of nanotechnology.
Iran has already sold a considerable number of this device to domestic and international research centers and universities.