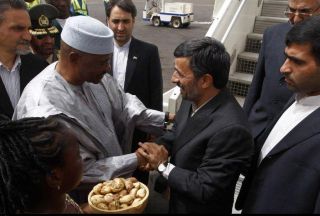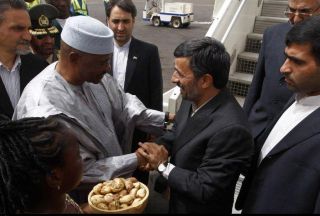 Iranian President Mahmoud Ahmadinejad says Iran and Mali present a united front and shoulder great responsibilities in the current global situation.
In a meeting with his Malian counterpart Amadou Toumani Touray in Bamako on Tuesday, President Ahmadinejad said there is a strong sense of solidarity between Tehran and Bamako and the two states enjoy many aspects of a common culture.
"Our main responsibility is to build our countries – for which we work hard for the benefit of the two nations. Although the Iranian and Malian nations have sustained damage from arrogant powers, today they can resolve their problems through cooperation," IRNA quoted the Iranian president as saying.
President Ahmadinejad further expressed readiness to expand cooperation with Mali in all fields.
Mali's President Toumani Touray, for his part, praised on the cooperation between Tehran and Bamako, welcoming an expansion of bilateral ties.
Heading a high ranking delegation, the Iranian chief executive arrived in Mali on Tuesday for a 24-hour visit. Ahmadinejad is to visit Nigeria for the Group of Eight Developing Countries (D8) summit (4-8 July) later this week.
D-8, also known as Developing-8, is an arrangement for development cooperation among the following countries: Iran, Indonesia, Malaysia, Turkey, Egypt, Bangladesh, Nigeria and Pakistan.