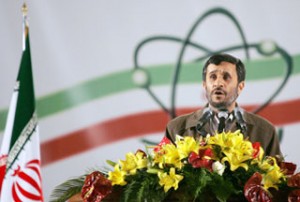 President Mahmoud Ahmadinejad says Iran does not need nuclear bombs to defend its territory and that the Islamic Republic's principles are against nuclear weapons.
"It is right that the Iranian nation has many enemies but it does not need a nuclear bomb to defend itself," Ahmadinejad said in an interview with the Danish media on Wednesday.
"The Islamic Republic of Iran's principles are against making a nuclear bomb and this is why we call for a global nuclear disarmament," IRNA quoted the Iranian president as saying.
"Nuclear bombs and weapons of mass destruction are threats to humanity," he added.
Asked if anyone could use a nuclear bomb today and if nuclear weapons could bring supremacy for a country, Ahmadinejad said, "Did nuclear weapons save the Soviet Union from collapse or did it lead to US victory in Iraq and the Zionist Regime's win in Gaza?"