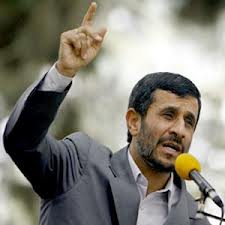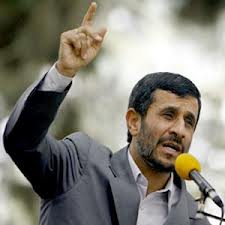 Iranian President Mahmoud Ahmadinejad rejected pressure against the Islamic Republic over its nuclear program, stating that the Iranian nation would not retreat an iota from its rights.
Addressing a huge crowd in Tehran's Azadi Square on the 34th anniversary of the victory of the Islamic Revolution, Ahmadinejad said Tehran would not negotiate about its nuclear program under pressure, but would talk to its adversaries if they stopped "pointing the gun".
"You cannot point a gun at the Iranian nation and then expect them to have negotiations with you."
"Talks should not be used as a lever to impose one's opinions … If you stop pointing the gun at the Iranian nation, I will negotiate (with you) myself," the Iranian president stated.
"Today, no power can make the slightest imposition against the Iranian nation, and this nation will not retreat one iota from its basic rights," he stressed, noting that "enemies are today making every effort to prevent the progress of the Iranian nation by [mounting] pressures, but they have not succeeded".
"Today, [even] the most cynic and immoral enemies of the Iranian nation admit that the Iranian nation and country is one of the most independent nations and countries in the world and no one can impose their will on the Iranian nation," Ahmadinejad added.
On Sunday, tens of thousands of Iranians staged mass rallies across the country to mark the 34th anniversary of the victory of the 1979 Islamic Revolution that put an end to the monarchy of the US-backed Pahlavi regime in the country, under the leadership of the late Ayatollah Imam Sayyed Ruhollah Khomeini.