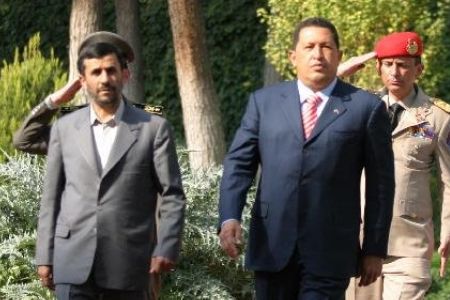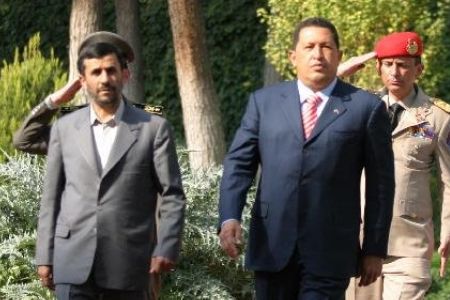 Iranian President Mahmoud Ahmadinejad has accorded an official welcome to his visiting Venezuelan counterpart Hugo Chavez.
During the official ceremony held at the presidential office on Tuesday, the national anthems of the two countries were played and the two countries' presidents reviewed a guard of honor.
Heading a high ranking delegation, Chavez arrived in the Iranian capital, Tehran, late on Monday night on the fourth leg of his tour to Asia which took him to Russia, Belarus and Ukraine.
The Venezuelan president is scheduled to meet with President Ahmadinejad and attend the eighth round of Tehran-Caracas energy talks.
The current visit by the Venezuelan president to Iran is taking place with the aim of boosting bilateral cooperation in the oil, gas, and petrochemical sectors.
This is Chavez's ninth visit to Iran since assuming power in 1999 and comes almost one year after the Iranian chief executive paid a visit to Venezuela.
Over the past five years, Iran and Venezuela have signed a number of memorandums of understanding and contracts for joint participation and investments in oil and gas projects.