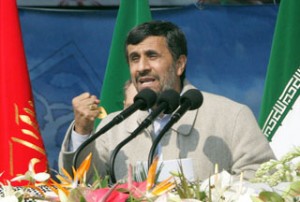 In an address on the anniversary of the 1979 victory of the Islamic Revolution, President Mahmoud Ahmadinejad said Thursday Iran seeks cooperation with all nations and despises confrontation.
Millions of people, some carrying Iranian flags, pictures of Leader of the Islamic Ummah Imam Seyyed Ali Khamenei, and banners in support of the revolution, took to the streets to celebrate the 31st anniversary of overthrowing the Shah regime, a US-backed monarchy.
President Ahmadinejad told crowds gathered in Tehran's Azadi (Freedom) Square that Iran despises confrontation but it will stand up for its rights, including the right to enrich uranium for civilian purposes.
He hailed Iran's advancements in various fields of technology and science, and said the country is now the most powerful nation in the Middle East.
He also warned US President Barack Obama against "missing opportunities" if he wants to implement "change" in US policies.