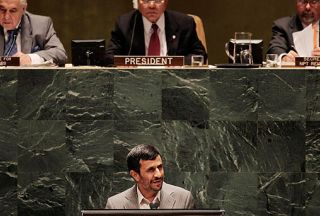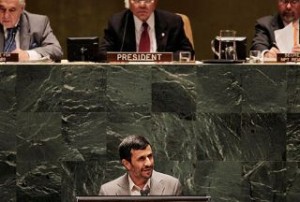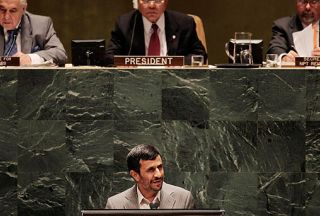 Iranian President Mahmoud Ahmadinejad has shrugged off the US threats of sanctions, saying Iran is well-prepared against them.
"Iran is not worried about US sanctions; it is used to 30 years of sanctions," Ahmadinejad said in an interview with Charlie Rose, published on May 3, according to ISNA.
"Sanctions are meaningless in the world of free trade," he added.
Ahmadinejad further criticized the West for "politicizing" Iran's nuclear program, which the US and its allies claim is aimed at developing atomic weapons.
Iran has categorically rejected the allegations and says it has the right to use nuclear technology for civilian purposes as a signatory to the Nuclear Non-Proliferation Treaty (NPT).
"We are opposed to nuclear weapons and we do not intend to make any. We are not afraid of any one and have the courage to publicly state out our intentions if we decide to develop a nuclear bomb," Ahmadinejad said.
"Nuclear weapons are the gravest danger that threatens our world. Iran has solutions for nuclear disarmament, preventing the Proliferation of weapons of mass destruction (WMDs) and building a peaceful world."
The Iranian president's interview came before his address the 2010 Review Conference of the Nuclear Non-Proliferation Treaty (NPT) at the UN headquarters in New York, where he set out details of a comprehensive resolution to strengthen the NPT.
He said nuclear disarmament should be put at the core of the NPT mandate through "transparent binding and effective mechanisms."
Ahmadinejad further called for the elimination of all nuclear weapons within a timetable set by an independent, international group.