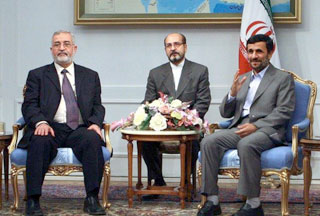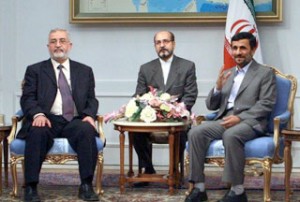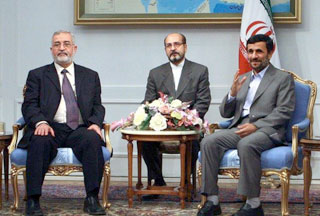 Iranian President Mahmoud Ahmadinejad has called on regional states to strengthen unity, saying 'the enemy' fears Muslim countries' unanimity.
"Countries in the region have lived with each other peacefully and without any difference. The enemy, however, seeks to cause discord and even waged wars," Ahmadinejad said in a meeting with Iraqi Parliament Speaker Ayad al-Samarai in Tehran on Tuesday.
"The enemy has even established the fake Zionist regime [Israel] with the aim of hatching plots against regional governments and nations," he added.
"All regional countries shoulder heavy responsibility to cut the hands of the enemy."
Ahmadinejad asserted the importance of Iraq's unity and said, "The Islamic Republic of Iran regards Iraq's security and integrity as its own."
"Security and progress of Iran and Iraq are integrated," he added.
Al-Samarai also met with Iranian Judiciary Chief Ayatollah Sadeq Larijani on Tuesday during his visit to Iran.
Larijani said the West seeks to impose its views on all countries and called on Muslim states to define the concept of 'Islamic human rights'.
"Muslim countries should try to determine the meaning of Islamic human rights based on preconceptions accepted by Islam," Larijani said on Tuesday.
He further voiced Iran's readiness to share its valuable experience on codification of judicial laws with Muslim states.