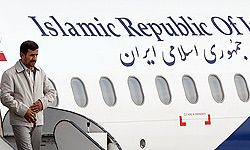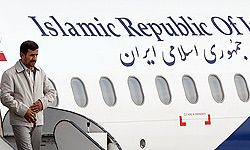 Iranian President Mahmoud Ahmadinejad is scheduled to pay a visit to New York to attend the upcoming session of the UN General Assembly, an Iranian spokesman confirmed.
"The Iranian President will be present in the UN General Assembly meeting and will put forward his views based on a defined program," Iranian Foreign Ministry Spokesman Ramin Mehman-Parast told reporters at his weekly press conference here in Tehran on Tuesday.
Mehman-Parast also said that there is the possibility of a meeting between presidents of Iran and United States on the sidelines of the UN meeting in New York.
President Ahmadinejad on August 2, 2010 said he is ready for a face-to-face debate with US President Barack Obama in a public meeting before the mass media when he attends the UN General Assembly later this year.
"I will travel to America late in Shahrivar (mid September) for the (UN) General Assembly meeting. Accordingly, I declare my invitation to Mr. Obama to accept to debate with me like two men in front of the media to determine who has a better solution for managing the world," Ahmadinejad told a gathering of Iranian expatriates at the time.
Later on August 3, White House spokesman Robert Gibbs said rejected the call.