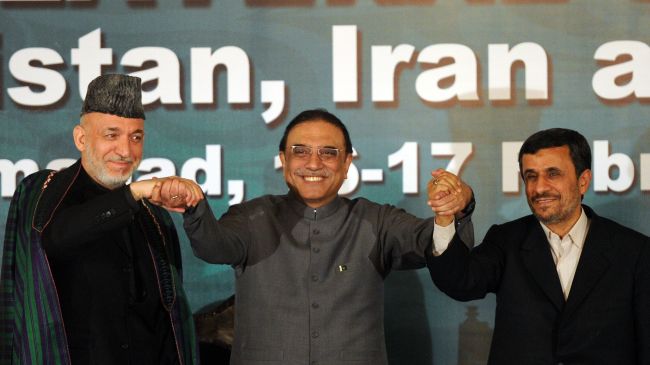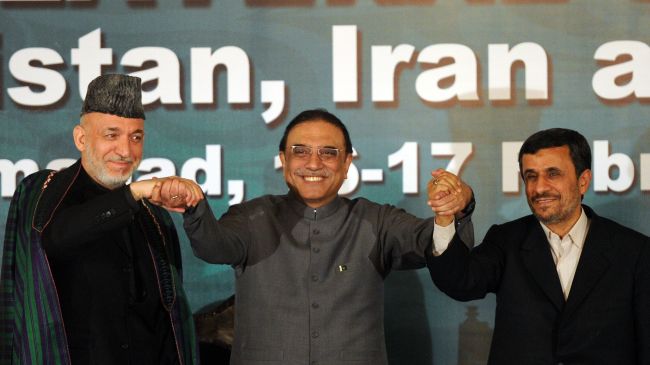 Iran's President Mahmoud Ahmadinejad has reiterated his call on regional countries to stand united in the face of the Western plots aimed at creating rifts in the region.
They (the hegemonic powers) seek to create divisions and tensions among regional countries. They don't want us to make progress, President Ahmadinejad said at a joint press conference with his Pakistani and Afghan counterparts on Friday.
We should stand by each other and have unity and solidarity in order to advance and realize our goals, Iran's chief executive added.
Today, we are unfortunately witnessing interference in our regional affairs through military means, said Ahmadinejad, criticizing foreign interference and military presence in the region.
He also underscored the need for regional solutions to the problems of the region.
President Ahmadinejad further said that the third trilateral meeting between Iran, Pakistan and Afghanistan has been aimed at discussing ways to deny foreign powers any chance to interfere in regional countries' internal affairs.
Pakistani President Asif Ali Zardari and Afghan President Hamid Karzai also highlighted unity in the face of global challenges.
Ahmadinejad arrived in Pakistan on Thursday to attend a two-day tripartite summit of Iran, Pakistan and Afghanistan on regional cooperation and developments.
The two previous trilateral meetings were held in the Iranian capital, Tehran.