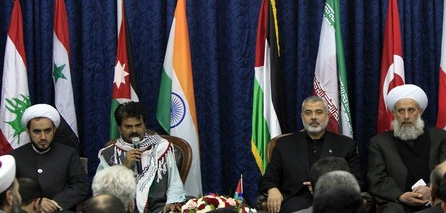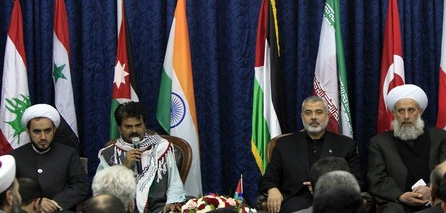 Gaza Prime Minister Ismail Haneyya said Tuesday during a ceremony honoring the Asia 1 convoy that relief missions to the Gaza Strip play a key role in exposing Israel's racially motivated economic blockade of the region to the world.
"The successive relief convoys must not be underestimated," the Palestinian premier said.
The Asia 1 convoy's 108 activists went on a tour of the Gaza Strip Monday morning after landing in the region Sunday night through the Rafah crossing carrying 1,000 tons of humanitarian aid.
Asia 1 chairman Feroz Mesberola said the convoy had a historical significance to Asian countries, being the largest yet. "Thousands of Asians dream of visiting the holy Palestinian land and meeting the legitimate leaders of the besieged Gaza Strip."
"The Palestinian cause has united all religious groups on the international level," said Syrian deputy mufti for his part, referring to the convoy's multi-national mult-religious crew.
The relief convoys are a bond for the Palestinians, said senior Islamic Jihad Movement official Mohammed al-Hindi. He added that the Israeli army, despite its military preparations, can no longer deter even a child in Palestine.