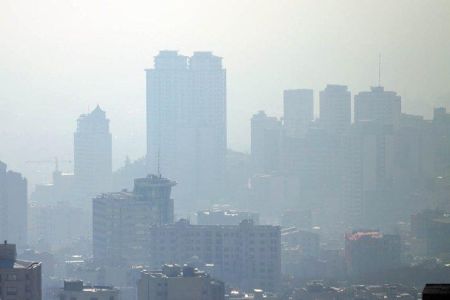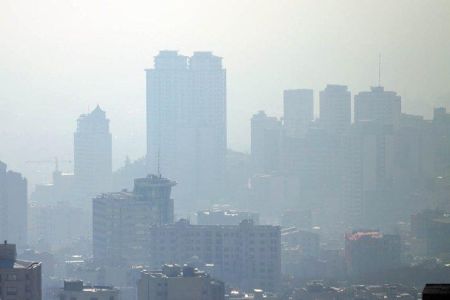 The air pollution in Tehran is still at an alarming level due to the accumulation of pollutants and the pattern of air inversion in the metropolis.
An air pollution emergency taskforce held a meeting on Sunday to discuss the choking pollution in the Iranian capital, Mehr news agency reported.
The committee announced that the quality of air in Tehran will be critical throughout the remainder of the week.
Head of Iran's Environment Protection Organization (IEPO), Mohammad Javad Mohammadizadeh, Tehran Governor General Morteza Tamaddon and representatives of executive organizations of the IEPO were present in the meeting.
Tamaddon said that the committee approved 30 ratifications to help reduce the air pollution and its hazards to ensure the health of Tehran residents, adding that the ratifications will be presented to the Cabinet for final scrutiny.
The intense pollution that has enveloped the capital for days has forced the government to declare a two-day public holiday to help curb the dangerous climate.
All public organizations, banks, schools and universities in Tehran will be closed Wednesday and Thursday.
Earlier on Friday, the committee had another emergency meeting and decided to curtail working and school hours until further notice.
Stopping polluting vehicles and industries, a stricter reinforcement of traffic laws and stepping up local traffic restrictions were among the measures passed by the panel.
It also advised a cancellation of outdoor sports activities and urged the residents to avoid taking out their personal vehicles and use public transportation instead.
Quarries and mines as well as tarmac and brick factories have been temporarily closed in the western and southern suburbs of the capital following the pollution hike.
The sprawling metropolis was literally closed down on Wednesday last week after the government declared a 24-hour public holiday for schools, offices, and factories. The government also called on children, the ill and the elderly to remain indoors.
According to a research by the Tehran Municipality and the IEPO, over 80 percent of the air pollution is due to the 3.5 million gas guzzlers plying the almost permanently clogged streets in the capital and its monstrous traffic that has seriously affected the quality of life in the province, which is home to an estimated 17 million people.
A study by the Air Quality Control Company shows that in Tehran cars produce at least 4,400 tons of air pollutants every day and 1.6 million tons a year.
The main air pollutants are the common smog-creating pollutants, toxic gases and greenhouse gases. Vehicles are also the main culprits when it comes to carbon monoxide and nitrogen-oxide emissions and suspended particulate matter.