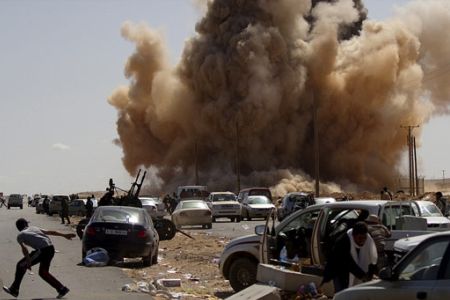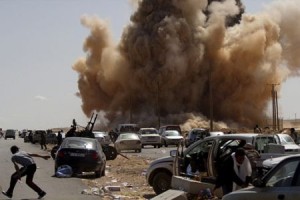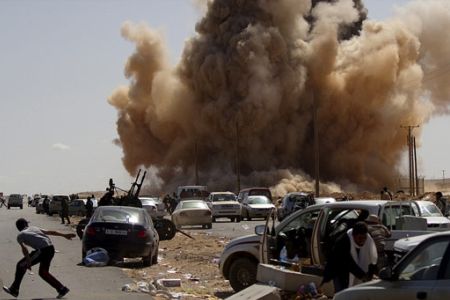 fighter jet has pounded an area southwest of Libya's opposition-controlled city of Benghazi as the battle between pro-Gaddafi troops and opposition forces rages on in the country.
Two columns of smoke were seen rising from the targeted zone in the southwestern part of the city after the attack, while anti-government forces in the city were returning fire, AFP reported.
Earlier reports said a string of loud explosions and airstrikes wrere heard in the eastern city of Benghazi.
According to some witness accounts, the explosions started about 2 a.m. local time and Gaddafi's forces are advancing approximately 20 km (12 miles) from Benghazi.
The attack comes despite the announcement by the Libyan regime that forces loyal to Libyan ruler Muammar Gaddafi have halted all their military operations.
On Thursday night, the UN Security Council passed a resolution, co-sponsored by France, Britain, Lebanon and the United States, endorsing a no-fly zone over crisis-hit Libya and military strikes on pro-Gaddafi forces to guard civilians.
Hours after the vote, Libyan Foreign Minister Moussa Koussa stated that the regime has declared an immediate ceasefire and stoppage of all military operations.
Pro-Gaddafi troops, backed by heavier armor and a monopoly on air power as compared to poorly armored opposition forces, have reportedly wrest back control of Zawiya and Zuwara west of the capital, Tripoli, and have tightened their siege of Misrata over the past few days.
They have also pushed revolutionary forces out of oil port cities of Ras Lanuf and Brega, and captured a strategic road junction at Ajdabiya.
Gaddafi's forces , however, has lost vast swathes of Cyrenaica, the country's fertile eastern coastal region to anti-government forces, who are struggling to penetrate deep into the front line westward toward the capital Tripoli, Gaddafi's main stronghold.